Skateboard attack leaves California cop in critical condition
Published time: 26 Nov, 2016 02:47
Edited time: 27 Nov, 2016 13:15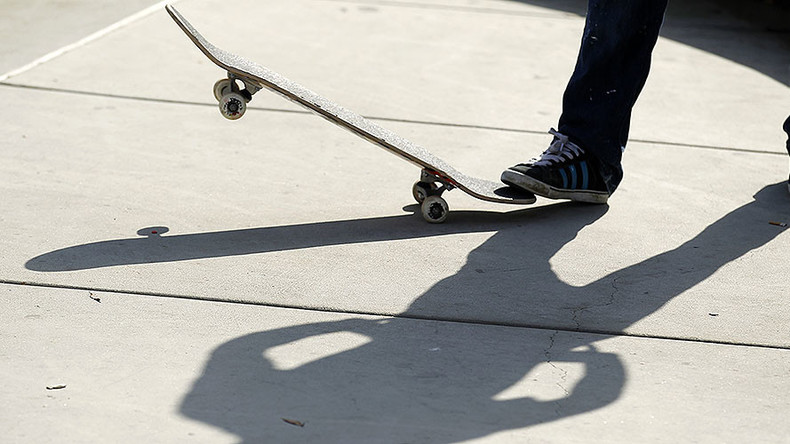 A California police officer sustained a major head injury and is in a critical condition after he was hit on the head with a skateboard on Thanksgiving.
The unnamed officer, a 12-year veteran of the South San Francisco Police Department, was waved down by someone who wanted to report a person disturbing local businesses, according to South San Francisco Police Chief Jeff Azzopardi.
"Several patrons reported a subject acting aggressively and irrationally. The officer made contact with the suspect, who immediately became confrontational. During the contact, the suspect attempted to flee from the officer," Azzopardi stated at a news conference. "After a short foot chase, the subject turned on the officer and intentionally struck him in the head with a skateboard, knocking him unconscious."
The suspect continued to flee when he was apprehended by additional officers.
"The injured officer was immediately transported to a San Francisco trauma center. The officer underwent emergency surgery for traumatic head injuries. He remains hospitalized and in critical condition at this time," Azzopardi said.
The injured officer is married with two children.
The suspect, identified as 28-year-old Luis Alberto Ramos-Coreas has a "lengthy history of criminal contacts with the South San Francisco Police Department," Azzopardi said. He remains in custody at the San Mateo jail, facing felony charges including the attempted murder of a police officer.
"This is so disheartening to hear of this incident, in a city such as South San Francisco. We are a tight-knit community, with a police force that is our family. Our thoughts and prayers are with this officer and his family," South San Francisco Mayor Mark Addiego said in a statement.