Fear & pride: Post-election poll shows divided America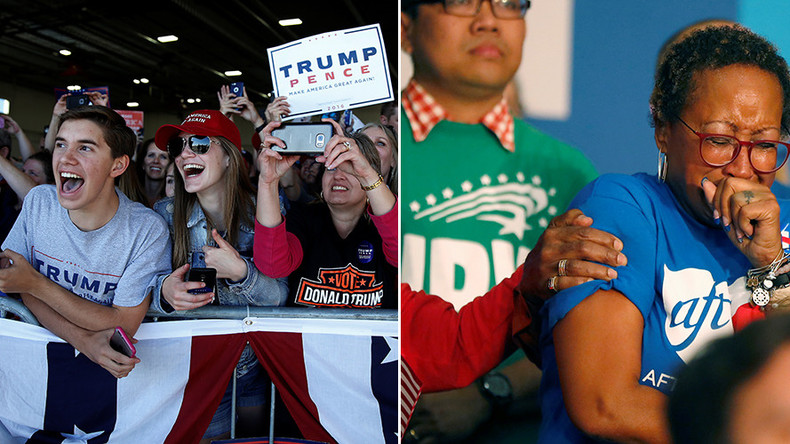 Donald Trump's stunning electoral victory has left Americans divided: while his fans are proud and hopeful, fear and unease reign among Hillary Clinton's voters.
The overwhelming majority of Republican voters said that Trump's victory made them feel hopeful (96 percent) and proud (74 percent), though six in 10 admitted it came as a surprise. The Democrats, meanwhile, said they felt uneasy (90 percent), sad (77 percent) or scared (76 percent) about Trump's triumph, which surprised nearly all (87 percent) of them.
Trump supporters' top three responses were "happy," "surprised" and "relieved," while among the Clinton voters the leading sentiments were "shocked," "disappointed" and "disgusted."
These are the results of a Pew Research poll published Monday, conducted on a sample of 1,254 voters from November 10-14. The same group was interviewed before the election.
The poll shows that Trump voters have high expectations of the president-elect, with 90 percent expressing at least a "fair" amount of confidence he will be able to deal with the economy, immigration and healthcare.
Read more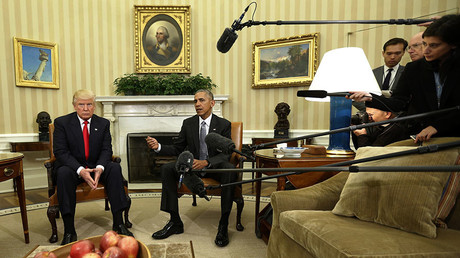 Democrats' response to the president-elect is divided. While 39 percent say they can't see themselves giving him a chance "because of the kind of person he has shown himself to be," a majority (58 percent) said they were "willing to give Trump a chance and see how he governs as president."
However, 65 percent also agreed that "Democratic leaders should stand up to Donald Trump on issues that are important to Democratic supporters, even if it means less gets done in Washington."
Most Clinton supporters (84 percent) expect race relations to get worse under President Trump. Among his supporters, half expect improvement while 38 percent say things will stay the same.
Overall, 56 percent of the voters expected Trump to have a successful first term – on par with Barack Obama's second-term expectations, but lower than the 67 percent who were hopeful about Obama's first term in 2008.
One thing on which both groups agree is that the press had "too much influence" on the election, an opinion shared by 62 percent of Trump voters and half of Clinton's.
Meanwhile, Trump's popularity seems to have risen on the tide of victory. A pre-election poll by Morning Consult/Politico showed only 37 percent of voters with a favorable view of Trump, compared to 61 percent who thought otherwise. A post-election poll showed the electorate evenly divided at 46 percent.
"Trump's favorability among voters has reached new highs since he became president-elect," Kyle Dropp, Morning Consult co-founder and chief research officer, told Politico. "This honeymoon phase is common for new presidents. For example, Obama saw about a 20-point swing in his favor following the 2008 election."