Standoff continues over Dakota pipeline protests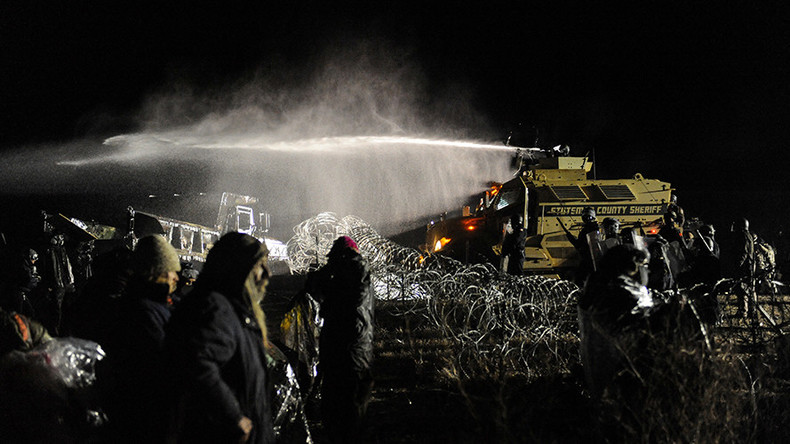 The standoff over the $3.8 billion Dakota Access Pipeline continues after a night of clashes left over 180 people injured. Images of some of the gruesome injures are starting to appear on social media.
Dakota pipeline protesters and police began to gather again on the Backwater Bridge on Monday mid-morning.
The AP reported police told the crowd they had identified firearms among the protesters and said people who were armed should leave. They also warned people who went onto the bridge could be arrested.
By early afternoon, protesters had backed away from the bridge leaving about a dozen remaining.
Images of some of the injuries sustained during the multi-hour protest between 400 demonstrators and police, including the National Guard, are starting to circulate on social media. Police fired water cannon, rubber bullets and pepper spray on protesters in freezing conditions in response.
Some pictures of injuries are graphic.
Dallas Goldtooth with the Indigenous Environmental Network said at least 17 people were taken to hospital, some with head injuries and some with hypothermia.
Standing Rock Sioux Tribe called on Obama to deny permit, investigate pipeline safety and protect tribal sovereignty follow police aggression on Sunday.
"The easement to build the unsafe Dakota Access Pipeline has not been granted. But under the cover of darkness, North Dakota law enforcement continues to engage in unlawful and dehumanizing tactics to subdue peaceful water protectors with tear gas and water cannons," Standing Rock Sioux Tribe chair Archambault said in a released statement.
"Live video footage on Facebook this Sunday night (Nov. 20) clearly document that North Dakota's law enforcement and government officials have sanctioned aggressive acts in failed attempts to disperse water protectors who have the right to demonstrate against and report on this failing project. It's time for President Obama to condemn these tactics and this pipeline."
Archambault complained about US government taxpayer dollars being used by militarized enforcement to commit aggressive acts.
"President Obama, this cannot be your legacy," he added.
Archambault said Energy Transfer Partners and Sunoco have a poor safety record on pipelines and advancing projects without permit approval, which the US government was ignoring, and local government in North Dakota was continuing to violate people's civil rights.
The conflict between Dakota Access Pipeline protesters and police happened late Sunday and early Monday, when over 400 demonstrators had been trying to remove a blockage on the Backwater Bridge on the state highway before clashing with police.

Authorities built a blockade on the bridge using military equipment chained to concrete barriers, erected barbed wire, and posted 'No Trespass' signs.
Police argue the bridge, which has been blocked for weeks, is unsafe due to earlier fires. Protesters argue blocking the bridge is dangerous, especially in an emergency.
Authorities defended their use of water hoses against protesters.
Morton County Sheriff's spokesman Rob Keller told AP the water hoses were used to put out fires set by protesters and to keep them away from law officers during a violent clash that was "rapidly unfolding."
Authorities said protesters assaulted officers with rocks and burning logs, injuring one officer. One protester was arrested.
You can share this story on social media: