California man blinded by rubber bullets sues police for constitutional violations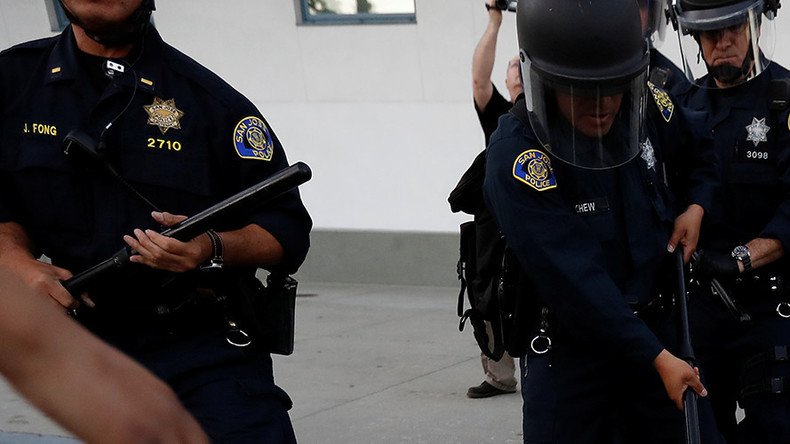 A California man is suing the city of San Jose and its police for blinding him with rubber bullets as he threatened suicide, but posed no danger to either the public or law enforcement. He was also wounded in the leg and chest.
Benjamin Cooper's case has passed unnoticed until recently. Late October he filed a lawsuit, hoping to hold local police responsible for trauma he sustained almost a year ago.
On December 15, 2015, San Jose police were called to a local Shop-N-Go store after a 911 call reported a man threatening to commit suicide. The call came from the shop clerk as Cooper was pressing a knife to his own throat.
"There was no indication that anyone other than PLAINTIFF was in danger," Cooper's lawyers wrote in the complaint filed on October 28.
Police arrived at the scene when both the clerk and Cooper were inside Shop-N-Go. As officers cleared out the store, Cooper also went outside the store and "paced back and forth" for several minutes, still holding a knife, according to the lawsuit.
He "was not making any verbal or physical threats to the officers or to anyone else. He was only threatening to harm himself."
Despite that, police officers kept him at gunpoint. Cooper's lawyers stressed by doing so, police violated "best practices" training, which calls of law enforcement to try to "de-escalate" the situation when dealing with a suicidal person.
Instead, officers were allegedly using "forceful and aggressive language" while also shouting commands, such as "drop the knife" among others and then "discharged their weapons," who showed no resistance.
"At the moment he was shot PLAINTIFF was not approaching any officer, was not running away, did not make any sudden or furtive movements, and did not verbally or physically threaten or endanger any officers or any other persons," his defense said.
Rubber bullets struck Cooper three times, hitting his leg, chest and an eye. As a result, he lost his right eye due to "great" damage the eyeball sustained. He has since suffered from anxiety and panic attacks.
According to KTVU news, Cooper's attorney Sam Lasser said on Friday that Cooper was left disfigured and can no longer open his right eye.
"It was a cry for help, he was in a crisis, and the police ended up completely mishandling it," Lasser said. "They reacted inappropriately and made his life a lot worse."
San Jose police released a report detailing the December encounter with Cooper in response to a California Public Records Act request.
It said that "the male was uncooperative with police and refused to follow verbal commands from officers all while still holding the knife to his neck."
"The suspect was taken into custody after the use of less lethal projectiles," Officer William Doane wrote, according to KTVU.
Cooper is now seeking damages from the City of San Jose, former Chief Larry Esquivel and 30 unidentified defendants, who he accuses of excessive force, assault, battery and negligence as well as of violation of his constitutional rights.
You can share this story on social media: