DARPA funds second prototype of new sea drone (VIDEO)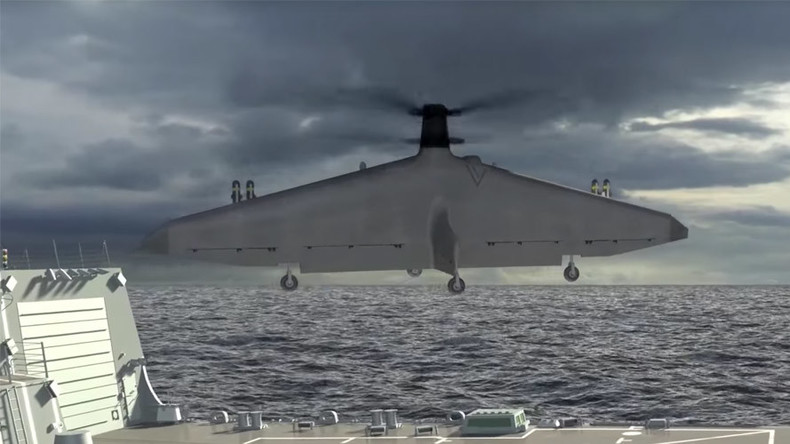 US weapons researchers are building a second test model of the sea-launched drone they call Tern, hoping the new technology – reminiscent of a 1950s design – will expand the capabilities of US Navy ships in the near future.
Named after a species of bird that lives near water, Tern actually began as an acronym for "Tactically Exploited Reconnaissance Node," a project jointly undertaken by the Defense Advanced Research Projects Agency (DARPA) and the Office of Naval Research in 2014.
This medium-altitude long-endurance (MALE) unmanned aircraft would give the Navy the ability to conduct reconnaissance and strikes beyond the range currently served by helicopters, according to DARPA.
The agency announced it was funding the second test vehicle at the fourth annual Defense One summit in Washington, DC.
"Adding the second technology demonstrator enhances the robustness of the flight demonstration program and enables military partners to work with us on maturation, including testing different payloads and experimenting with different approaches to operational usage," said program manager Dan Patt.
Tern is a tail-sitting "flying wing" aircraft, with twin, counter-rotating, nose-mounted propellers. This will enable the drone to take off vertically from helicopter decks of smaller navy ships, fly like a conventional airplane for the duration of the mission, and land like a helicopter at the end. The drone is sized to fit into existing shipboard hangars for maintenance and storage, according to DARPA.
The US military experimented with a piloted aircraft of the same type in the 1950s, but the Convair XFY "Pogo" was abandoned as impractical.
"We're making substantial progress toward our scheduled flight tests, with much of the hardware already fabricated and software development and integration in full swing," said Brad Tousley, director of DARPA's Tactical Technology Office.
Tail-sitting drones of this size are uncharted territory, Tousley said, but the agency remains excited about what the successful demonstration of Tern could mean: "Organic, persistent, long-range reconnaissance, targeting, and strike support from most Navy ships."
Most of the major airframe components have been manufactured, and the final assembly is anticipated in the first quarter of 2017, the agency said. The testing prototype is using off-the-shelf technology, though the engine is a heavily modified version of the General Electric machine currently powering a number of helicopters.
A 1:5 scale version of the vehicle is currently undergoing wind tunnel testing at the the NASA Ames Research Center. Integrated propulsion system tests are scheduled for early 2017, with ground-based tests and sea trials envisioned for 2018.