11yo suspended from school for cutting peach with child's butter knife
Published time: 18 Nov, 2016 12:42
Edited time: 19 Nov, 2016 11:24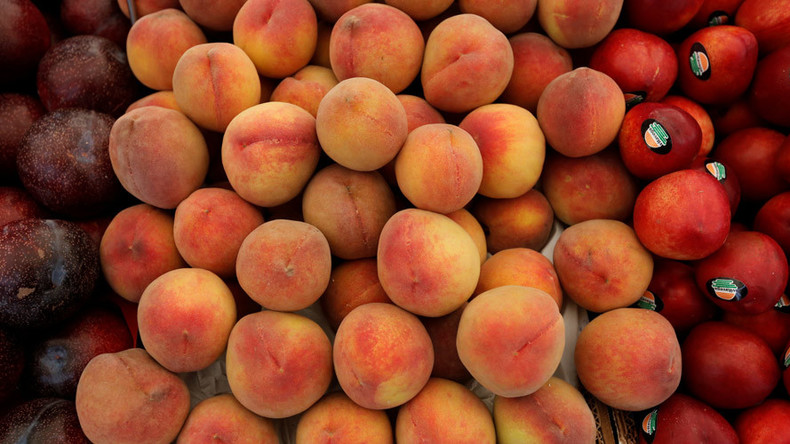 An 11-year-old girl in Pembroke Pines, Florida has been suspended from school for using a child's knife to cut a peach to share with her friend.
According to the child's family, she was eating lunch in Silver Trail Middle School's cafeteria when her friend asked her for some of her peach. She took a child's butter knife out of her bag and cut the peach in half.
Shortly afterwards, the school informed the family that she was being suspended for six days for violating the school district's weapons policy.
The child's parents, Ronald and Andrea Souto, say the 11 year old just wanted to share her fruit and that the knife couldn't be used to cause harm.
"This is a set of a spoon, fork and knife for toddlers… It does not cut," Andrea Souto said to local station WLPG-TV. "It is made for children to learn how to eat properly. She's used it since she was baby."
A school district spokesperson told the station that the "school followed district policy regarding this incident and continues to work with the student and parents involved. It is the district's priority to maintain safe and secure campuses for students and staff at all times."
The district's weapons policy defines a knife as: "Any knife that may inflict harm on another person, or could be used to intimidate/threaten another person, including, but not limited to, fixed blade knives, regardless of size, switch blade knives, razor blades, or box cutters, but excluding blunt-bladed table knives and common pocket knives."
However the district's description of the Silver Trail incident describes the knife, which has pictures of animals on the handle, as a "butter knife" and acknowledges that the student did nothing with the knife other than cut soft fruit.
The girl's family hope the incident will cause Broward County school district to change its policies when it comes to weapons. "She's afraid now of the educators. She's afraid of people at school. They need to change the system," Ronald Souto said of his daughter.
READ MORE: Baltimore teacher calls students 'punk a** n******' who are 'going to get shot'
The incident has also been referred to Pembroke Pines Police Department, who turned it over to the State Attorney's Office.
The family's attorney Larry Meltzer described the situation as "tragic."
"It is tragic that a school that this little girl loves sees fit to prosecute and suspend her, the epitome of a model and honor roll student, for using a child-proof utensil that could never be construed in any form as a weapon in order to share part of her lunch with a fellow classmate."