Obama doesn't expect Trump to follow his approach to Russia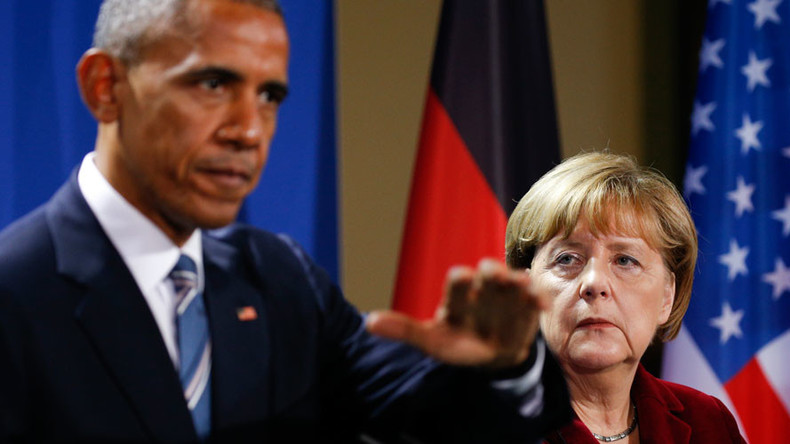 Outgoing US President Barack Obama said that he did not expect President-elect Donald Trump to follow his administration's blueprints in dealing with Russia, yet hoped that Trump would "stand up" to Moscow.
"My hope is that the president-elect coming in takes a similarly constructive approach, finding areas where we can cooperate with Russia where our values and interests align, but that the president-elect also is willing to stand up to Russia when they are deviating from our values and international norms," Obama said. "But I don't expect that the president-elect will follow exactly our approach."
Obama's tone toward Moscow was more reserved as he answered questions during the press conference with German Chancellor Angela Merkel, compared to his rhetoric before the election in the United States. However, he repeated allegations that Russia had engaged in cyberattacks against the US.
Although US intelligence officials blamed Russia for cyberattacks on the Democratic National Committee, they have not provided any substantial proof to the public.
Obama also said that he wished Russia prosperity and that Moscow was an "important partner" in the world.
"In order for us to solve many big problems around the world, it is in our interest to work with Russia," the outgoing US president said.
Obama sought to reassure Americans and Germans alike about his successor, saying he was "cautiously optimistic" about Trump's "shift from campaign mode to governance." The guidance that the outgoing president said he gave Trump was that what might have worked during his "extraordinarily unconventional campaign" likely won't work when governing a diverse country and gaining the support of Americans who didn't vote for him, and that reality must be reflected in the Trump administration.
"My hope is that it's something he's thinking about," Obama said. "Not only is the president of the United States somebody that the entire country looks to for direction, but is someone who sets the international agenda in a lot of ways."
"There is something about the solemn responsibilities of that office, the extraordinary demands that are placed on the United States, not just by its own people but by people around the world, that forces you to focus, that demands seriousness. And if you're not serious about the job, then you probably won't be there very long because it will expose problems," the president added, calling on Trump to work with a wide variety of people in the US in order to be a successful president.