Baltimore lawmakers seek to ban realistic-looking toy guns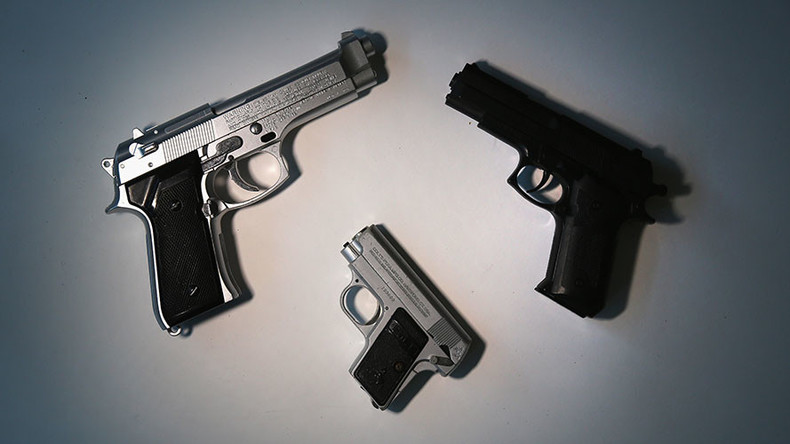 Toy guns that look like the real thing could be banned under a bill introduced by lawmakers in Baltimore, Maryland. The replica guns have been the key cause of a number of police-involved shooting of children such as Cleveland's Tamir Rice, which lead to national protests.
Under the bill, which was voted through unanimously by Baltimore City Council on Monday, owning, carrying or otherwise possessing a replica gun that could "reasonably be perceived to be a real firearm" could result in a $250 fine for a first offense, according to The Baltimore Sun.
Fines would rise to $1,000 for second and subsequent offenses.
"If we had our way, we would ban all handguns in the city of Baltimore. We just don't have the authority to do it," said Baltimore City Councilman Jim Kraft, D-District 1, who sponsored the bill, told WBAL in October.
The idea for the legislation started in April after Baltimore police shot a 13-year-old boy who was carrying a replica gun. Police said the boy was carrying a spring-air-powered BB gun that resembled a semiautomatic pistol. He survived the shooting.
The committee approved several amendments, including an amendment that excludes guns that are clearly toys or replicas used for training purposes or paintball.
"We're hoping that the only time a person would have a gun is if it were to be a real gun," Kraft told WBAL.
Kraft said the bill was a way to protect city youth and "to get the replica guns off the street."
The bill has its critics.
Baltimore resident Shaivaughn Crawley told WBAL the bill blames residents rather than police officer.
"I just don't think that this is practical. I don't think it can work until we have police officers that are willing to not just immediately shoot," Crawley said.
"It is true that some of our officers need more training, but the vast majority of the men and women in the Baltimore City Police Department are responsible officers, and they're not out there looking to shoot somebody," Kraft said.
Mark Pennak, president of Maryland Shall Issue Inc., wrote to the council that the legislation is "hopelessly vague" and violates federal law, which prohibits states from banning the sale of some replica firearms.
Pennak said the bill if passed would "create a whole new class of criminals in the City of Baltimore for the mere home possession by entire families of otherwise perfectly legal toys!"
The Baltimore bill follows similar legislation in New York, Chicago and Washington, after a series of police shootings of children with the realistic guns that captured nationwide attention. Among them the police shooting death of 12-year-old Tamir Rice in a public park who was carrying a toy replica BB gun, and police in Columbus, Ohio who shot and killed 13-year-old Tyre King after he allegedly pulled a BB gun with a laser sight.
The bill also doesn't ban toy gun makers for manufacturers the realistic-looking guns or sellers or hold them liable for incidents that occur when the toy is involved.
Baltimore Mayor Stephanie Rawlings-Black would like to see changes in the bill, according to her spokesman, Anthony McCarthy, who told The Sun she would like to hold "manufacturers and those who are responsible for the point of sale accountable, and not families and especially our children."
The bill goes up for a final vote on December 5.