TPP 'not dead,' says Republican trade hawk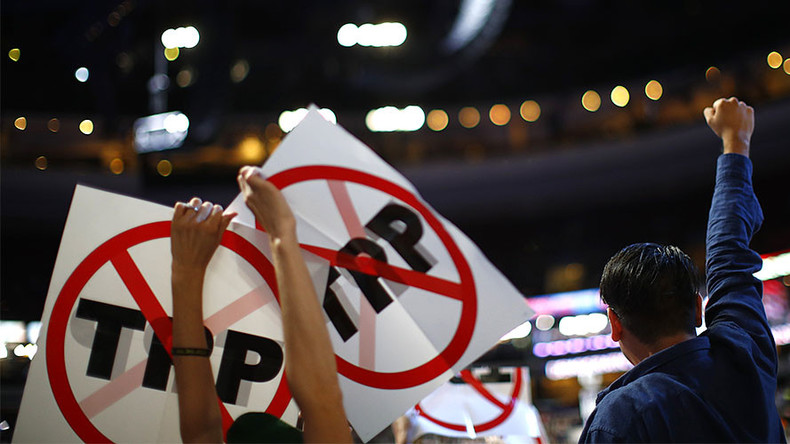 Though President-elect Donald Trump has been firmly against the Trans-Pacific Partnership, a senior House Republican is now saying the controversial trade deal may not be dead, just "on hold."
Representative Kevin Brady (R-Texas), chairman of the House Ways and Means Committee and its sub-committee on trade, told the Wall Street Journal's CEO Council on Tuesday that Republicans should defend the TPP and seek to renegotiate, rather than withdraw from the free-trade pact.
Putting forth his argument for free trade, Brady said, "It's not enough to simply buy American, we have to sell American all around the world."
"There is plenty that levels the playing field," Brady told the forum, according to Reuters. "Renegotiate. Fix the problems that exist today. Let's find a way to move forward."
Signed in February, the TPP seeks to establish a free-trade zone between the US and 11 other states of the Pacific Rim: Australia, Brunei, Canada, Chile, Japan, Malaysia, Mexico, New Zealand, Peru, Singapore, and Vietnam. Critics have objected to the provisions establishing supra-national courts for corporate disputes, among other things.
Before the pact comes into effect in the US, the Senate must ratify it. The White House and Congress were discussing the possibility of putting it up for a vote during the "lame-duck" session, before President Barack Obama's mandate expired. However, those talks stopped after Trump's surprise election victory, the Washington Post reported.
"I think the president-elect made it pretty clear he was not in favor of the current agreement," Senate Majority Leader Mitch McConnell (R-Kentucky) told reporters last Wednesday, implying that Trump would scrap the deal and "negotiate a better" one.
The president-elect has consistently bashed the free-trade pact, along with its European counterpart the TTIP and the existing NAFTA pact with Canada and Mexico.
"There is no way to fix the TPP," Trump said in a campaign speech in June.
"Every trade deal we have is horrible and we should be ashamed of … the people that let those deals happen," Trump said on October 22, laying out his economic and trade policy in Gettysburg, Pennsylvania. "They're defective, and they knew they were defective, and they were done for a reason."
Some of the protesters opposing Trump don't believe he is committed to killing the TPP, however. A group protesting both the president-elect and the trade pact blockaded a major highway in Washington, DC on Monday.