Mistrial ruling in case of Cincinnati cop who shot black man triggers fresh protests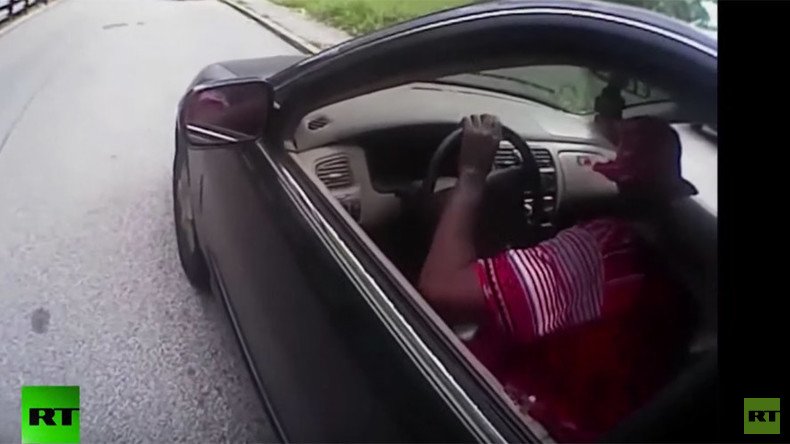 Protests erupted outside the courthouse after 12 jurors failed to produce a unanimous verdict in the case of University of Cincinnati police officer Roy Tensing, who shot a black man in July 2015. The judge was forced to declare a mistrial.
Tensing was charged with murder for the killing of Sam DuBose during a precautionary traffic stop, which could have resulted in a life sentence. He could also have been imprisoned for up to11 years for voluntary manslaughter.
"What we do know is that the jury were leaning towards acquittal on the murder. They were leaning toward conviction on the voluntary manslaughter, but they just couldn't come to an agreement," Hamilton County Prosecutor Joe Deters said to Cincinnati station Fox 19, stating that four jurors out of 12 said Tensing was guilty of murder, and eight of manslaughter.
The trial began on October 31, but the jury, consisting of ten white people and two black people, dedicated the last four days to deliberations, which took a total of 25 hours without producing the required clear-cut result.
Following the announcement of the mistrial Deters' department now has until November 28 to file a new hearing, or drop the case. There will be pressure on the prosecutors to continue proceedings given that it is racially-charged.
When it initially hit the news last year, it produced a series of volatile protests, and on Saturday morning, up to 1,000 Black Lives Matters activists and supporters next to the courthouse vented their anger at the lack of punishment, chanting "No Justice! No Peace!"
Cincinnati Mayor John Cranley said he "understood" the anger, but called on demonstrators to maintain peace.
'Not enough evidence one way or another'
While the bare-bones facts of the shooting were never in doubt, the jury was presented with wildly contrasting narratives about what happened on July 19 last year, after Tensing pulled over the 43-year-old DuBose, whose Honda Accord was missing its front number plate.
Tensing's legal team argued that he acted out of pure self-defense and "sheer terror."
A defense expert testified that DuBose, who had marijuana and $2,600 in cash inside the vehicle, and was facing a possible felony charge, if they were found, was giving out "threat indicators," such as putting his arm on top of the officers.
In the seconds before firing, the 26-year-old said he had a "perception" that DuBose was about to run him over, using the car as a "weapon."
"I felt my body moving with his car, he was picking up speed, I remember hearing the RPMs climbing and his engine revving. I was just thinking my legs are gonna get sucked into his car, he's gonna run me over, I'm gonna die on this street today," he told the courtroom, as he broke down in tears during the recounting of the incident.
On the other hand the prosecutors portrayed Tensing as a man of prejudice, who led the university police force in citations, over 80 percent of which were issued to minorities.
He was also wearing a Confederate t-shirt underneath his uniform on the day of the incident, though the former cop said it was an old gift, about which he had "no feelings."
More importantly, prosecutors claimed that they were able to prove, by breaking down the bodycam footage shot-by-shot that DuBose's car only started moving 800 milliseconds before the shot.
"The video is the ultimate witness. It doesn't alter or change its story. It has no bias or prejudice. It consistently tells what it saw, whether it's the first time or thousandth time," said Deters.
A police expert also claimed that the officer needlessly "escalated" the situation, by trying to reach inside the car to pull the keys out of the ignition, before shooting DuBose dead.
"We thought we proved murder," said Deters after the mistrial announcement, adding that he the defendant should have never been made a cop, and that the University of Cincinnati should not be overseeing its own police department.
"Obviously, we're disappointed. We put a ton of time and money and effort on this. It was; I'd be lying to you if I didn't tell you it was disappointing."
"Obviously, we were hoping and looking for a not guilty, but it certainly beats the alternative of a guilty. So, we'll take it, I don't call it a win," said Stew Mathews, who represented Tensing in court.
"My personal opinion, it could be tried 100 more times and probably get a similar result. I just think it's the kind of case, there's not clear evidence one way or another."
"There's a lot of emotions going on – happy and sad because we don't know which one we're going to get. We hope in justice, but knowing how the court system works these days, there's no telling what's going to happen," Teala Williamston, DuBose's daughter, told local station WCPO.
Meanwhile Tensing, described as "exhausted" and "worn down" remains free on a $1 million bond.
You can share this story on social media: