'Trial of the millennium': Judge rules kids can sue US government over climate change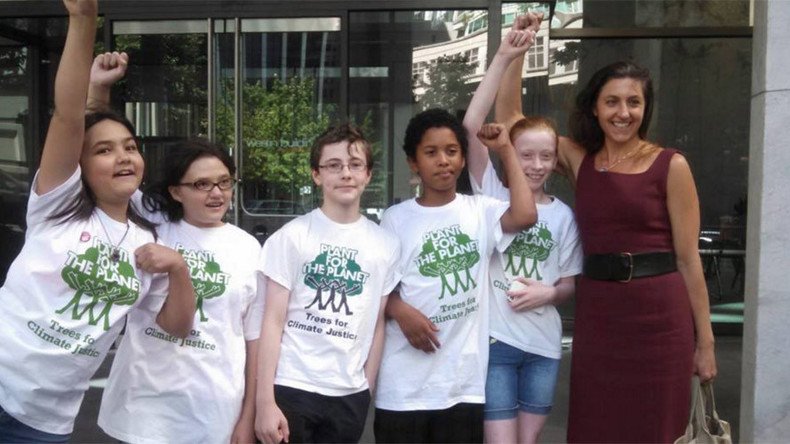 An Oregon federal court has paved the way for young people in the US to fight climate change through the courts, ruling against the government and fossil fuel companies' attempts to dismiss a case brought against them.
Federal Judge Ann Aiken ruled that the lawsuit brought against the US government by a group of 21 young people aged between nine and 20 can move forward as it "adequately alleged infringement of a fundamental right."
Our Children's Trust has filed lawsuits in each state accusing the government of failing to adequately address the issue of climate change. The lawsuit says the government's inaction is endangering young people by permitting greenhouse gas pollution to continue over 50 years despite knowing it was "destabilizing" the climate.
While the government and a number of fossil fuel companies attempted to have the suit dismissed, Aiken found the case to be valid.
"This action is of a different order than the typical environmental case. It alleges that defendants' actions and inactions – whether or not they violate any specific statutory duty – have so profoundly damaged our home planet that they threaten plaintiffs' fundamental constitutional rights to life and liberty," she said.
"Although the United States has made international commitments regarding climate change, granting the relief requested here would be fully consistent with those commitments," her decision read. "There is no contradiction between promising other nations the United States will reduce CO2 emissions and a judicial order directing the United States to go beyond its international commitments to more aggressively reduce CO2 emissions."
The case is shaped around the issue of public trust, which calls for the government to protect common elements, like water and coastlines for the people.
It claims the government needs to protect the atmosphere and failing to do so violates the public trust. Describing the decision as "one of the most significant in our nation's history," Julia Olson of Children's Trust said. "This court just gave the youth of this country the critical opportunity to protect their futures. In what will be the trial of the millennium, these young plaintiffs will prove that their federal government, in cooperation with the fossil fuel industry, has knowingly put them in grave danger, trading their futures for present convenience and gross profits for a few."
"It's clear Judge Aiken gets what's at stake for us," 17-year-old plaintiff Victoria Barrett, said. "Our planet and our generation don't have time to waste. If we continue on our current path, my school in Manhattan will be underwater in 50 years. We are moving to trial and I'm looking forward to having the world see the incredible power my generation holds. We are going to put our nation on a science-based path toward climate stabilization."
You can share this story on social media: