Calexit: California mulls becoming own nation in wake of Trump presidency
Published time: 10 Nov, 2016 23:53
Edited time: 11 Nov, 2016 12:14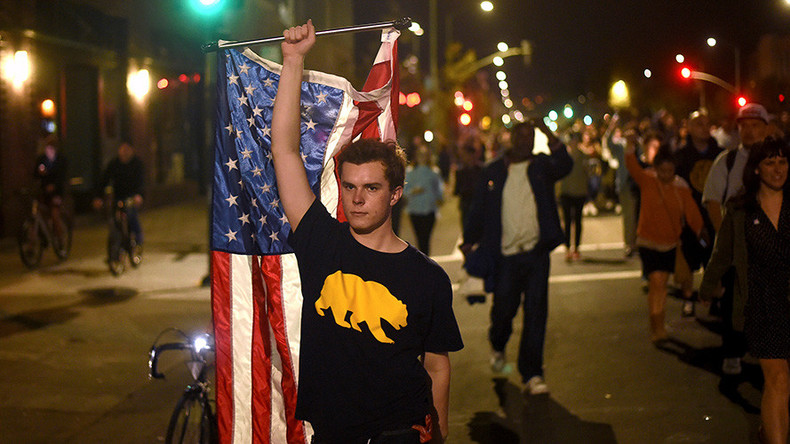 The Golden State could become the Golden Nation if an independence referendum gets passed. Emboldened by California's strong economy and high population, the so-called "Calexit" could gain traction following the election of Donald Trump.
California could become an independent country in 2019 when voters hit the polls again. The Yes California Independence Campaign believes that "being a US state is no longer serving California's best interests" and thinks that California would be better suited making its own immigration laws.
While many states, like Texas, have toyed with secession in the past, California's potential Calexit has something unique: money. Iranian-American entrepreneur, Shervin Pishevar, executive chairman of Hyperloop One, has voiced his support for Calexit. On Tuesday, he tweeted that in the case of a Trump win he would be "announcing and funding a legitimate campaign for California to become its own nation."
Now Pishevar is willing to put his money where his mouth is. He has resigned from his position as a member of the Fulbright Scholarship board, citing an inability to work with Trump. In addition, his call for the nation of New California was heard by other Silicon Valley hot-shots like Marc Hemeon, a former Google designer and CEO of Design Inc; Cheezburger founder Ben Huh; and Path founder Dave Morin.
California also has a unique position in the US, as Pishevar explained on CNBC. "As the sixth largest economy in the world, the economic engine of the nation and provider of a large percentage of the federal budget, California carries a lot of weight."
The Yes California movement still has a way to go, however. President Louis Marinelli has tried to get the referendum on the ballot in the past, but has yet to reach the 400,000 signatures needed to appear on the ballot. However, Marinelli is looking to try again and get an initiative on the ballot in 2018 when Californians choose their governor for a referendum in 2019.
Even if the initiative passes, that may not be enough to stop California from skedaddling away from a Trump presidency. The laws surrounding states' secession is murky at best, as pro-secession Texans learned the hard way earlier this year.
There are no clear paths for a state to leave the US, and the last time any state really made an active attempt was in the Civil War. "The Civil War played a very big role in establishing the power of the federal government and cementing that the federal government has the final say in these issues," Eric McDaniel, Associate Professor of Government at the University of Texas at Austin, told The Texas Tribune.
Late Supreme Court Justice Antonin Scalia was blunt about this matter in 2006, when a screenwriter contacted him to see if there was a legal basis for secession. "If there was any constitutional issue resolved by the Civil War, it is that there is no right to secede," Scalia responded.
California isn't the only state that will grapple with this legal question – Oregon will have the option to make Portlandia a nation after two residents submitted a secession petition for the 2018 ballot, KGW reported.
The Oregon ballot is open to going it alone, but leaves room to join other states like California, Washington, Nevada, Alaska and British Columbia.
British Columbia has yet to weigh in on leaving Canada.