Arson suspect performs 'Houdini' handcuff escape, steals police car (VIDEOS)
Published time: 8 Nov, 2016 14:52
Edited time: 9 Nov, 2016 10:06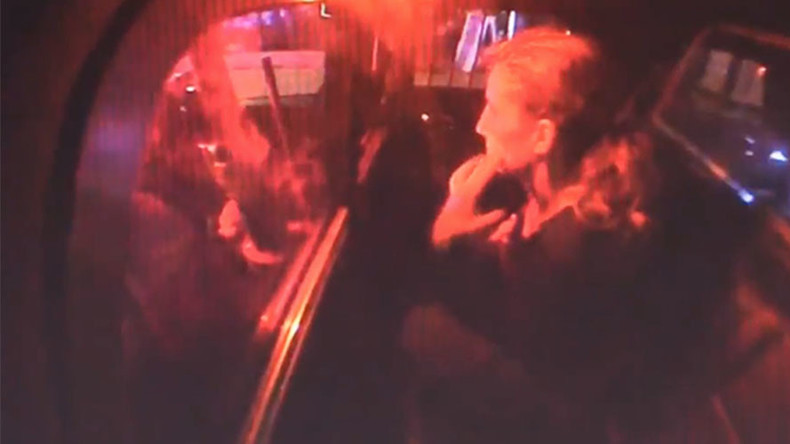 A woman arrested by Minnesota police pulled off an incredible escape by slipping out of handcuffs and stealing a squad car from the alleged crime scene.
Jennifer Hillard is suspected of starting a small fire at her apartment in Alexandria on Sunday while in possession of drug paraphernalia, KSTP-TV report. The 35 year old is reported to have been caught hiding from police in the apartment's ceiling space.
According to investigators, the alleged arsonist was able to manipulate her slight frame to free herself from police handcuffs while in the back of an unattended squad car.
Clearly desperate to escape the law, Hillard was filmed by an in-car camera squeezing through a small sliding partition and into the driver's seat.
From there Hillard started the vehicle and led police on a 30-minute chase. At one point the suspect is recorded reaching speeds of 129 mph through the town of Alexandria.
Alexandria Police Chief Rick Wyffels said the aftermath of the apartment blaze that triggered their investigation was both "unique and bizarre".
"It turns out that a really small individual can actually slip their hands out from a set of handcuffs that are locked and last night [Sunday] we discovered that a really small individual can crawl through a window that's about 11 inches square,"Wyffels said.
He said that the car itself was locked from the outside but had the keys in the ignition so that the radio gear and camera could continue to run.
"The good news of this story is that nobody was hurt, the suspect was arrested and actually the squad car obtained two flat tires – the only damage that was done," he added.
Hillard is now facing charges of theft, arson and possessing a controlled substance, according to CBS Minnesota.