#PodestaEmails35: N. Korean official threatened US during frosty Bill Clinton visit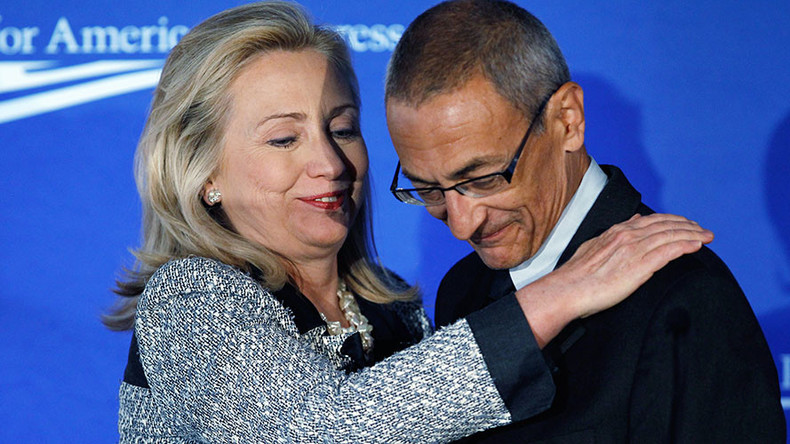 WikiLeaks has released its 35th batch of emails from the hacked account of Hillary Clinton's campaign chair, John Podesta, as Americans go to the polls in the presidential election.
The whistleblowing site has now released a total number of 58,375 emails in its Podesta series.
READ MORE:#PodestaEmails34: WikiLeaks releases second batch on eve of election

The leaks have revealed some of the inner workings of the Democratic candidate's campaign, notably her team's widespread manipulation of the MSM and cozy relationships with influential political journalists.
Accusations of Chelsea Clinton's misuse of Clinton Foundation funds for her wedding, admissions of secret middle-eastern donations and concerns over Hillary's email scandal are just some of the topics discussed by staffers that are now open to public scrutiny.
N Korea warned of 'grave consequences' to US hostility
A leaked draft report of Bill Clinton's visit to North Korea in 2009 reveals that a top Pyongyang official threatened the US with "grave" consequences unless its approach to the nation softened.
In August 2009, Clinton undertook an unexpected one day visit to the North Korean capital to secure the release of two US journalists arrested for allegedly trespassing into North Korea and carrying out "hostile acts".
During the visit Clinton met with leader Kim Jong-Il. At the time little was known about the exact content of discussions between Clinton and the communist country's officials.
However, notes taken by Stanford University professor David Straub during the "mission of mercy" suggest US delegates were met with a frosty reception from one North Korean political figure in particular, President Kim Yong Nam, the head of the Supreme People's Assembly.
According to Straub's report, included among Tuesday's leaks, President Nam blamed poor relations between both countries on a "hostile US policy" and increased sanctions against North Korea.
"If the United States continued to make it difficult for the people of North Korea, the situation would turn difficult and the result would be grave," Nam reportedly said.
Nam also accused nuclear nations the US, Russia and China of "double standards" when dealing with the issue of disarmament on the Korean peninsula and of using the United Nations Security Council to hinder the nation's development of satellites.
One thinly veiled threat came near the end of the meeting, with Straub writing how Nam said that if the US was unwilling to co-exist with North Korea, "the DPRK would have to continue to make missiles and nuclear weapons."
Despite the warning, the report mentions that Nam expressed his regret that Clinton could not stay longer to for a "more extensive exchange of views."
Dislike of Obama
In a December 2014 mail to Clinton aide Cheryl Mills, Podesta hints that Mills showed some disdain for President Barack Obama.
"You raised your eyebrows when I said I liked Obama and liked working with him. Think about that later today," Podesta says in the mail.
Errors with mails
The latest batch of leaked emails appears to be suffering some technical issues, with a number of mails uploaded by WikiLeaks returning the error "Internal Server Error".
Bill Clinton labels Jeremy Corbyn 'mad'
UK Labour supporters elected the "maddest person in the room" as their party leader, according to President Bill Clinton.
The former commander-in-chief made the comments at a private fundraiser in October last year, according to speech transcripts revealed in Tuesday's email leak.
The remarks were made at the home of key donor Pennie Abramson, where Clinton also likened Jeremy Corbyn to a "guy off the street" and said a shift towards left-wing politicians was a response to people feeling "shafted".
"When David Cameron thumped him [then-Labour leader Ed Miliband] in the election, they [Labour supporters] reached the interesting conclusion that they lost because they hadn't moved far left enough, and so they went out and practically got a guy off the street to be the leader of the British Labour Party," Clinton said.
He added: "[T]he same thing happened in the Greek election – when people feel they've been shafted and they don't expect anything to happen anyway, they just want the maddest person in the room to represent them."
You can share this story on social media: