Nearly 1,500 voters download voter protection app issued by Latino civil rights group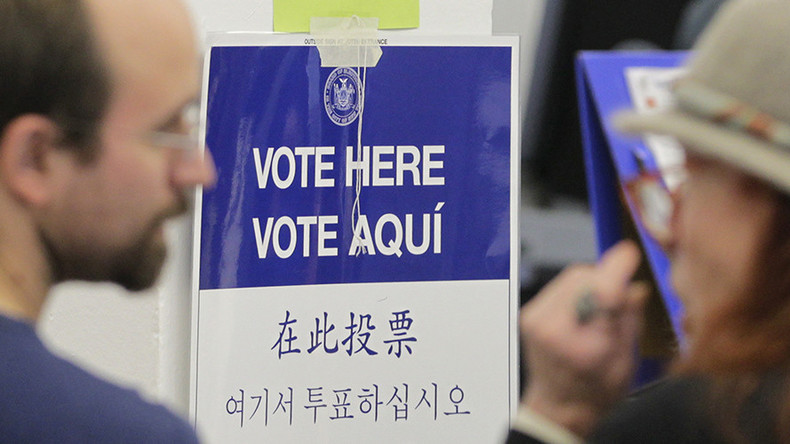 Civil rights group LatinoJustice has launched a smartphone voter protection app that helps citizens report violations while voting in the 2016 elections. By Monday lunchtime, nearly 1,500 people had downloaded the app.
The app Cada Voto Cuenta will allow voters to immediately report voting rights violations they might encounter on election day. Using the app, voters can fill out a report that is immediately sent to LatinoJustice for a legal voting rights review. Early voting has already taken place in North Carolina, Texas and Florida.
"What I have been hearing from the field, we have an office in Orlando, Florida, where there are accounts of major participation rates, especially in Latino concentrated neighborhoods in that part of the state, we've not had any problems to date. That's good news for early voting. Early voting eases the pressure and the tension administratively on all local boards," Juan Cartagena, president and general counsel of LatinoJustice told RT.
"But we all know the biggest surge, historically, has been on election day."
This election day, over 200 million citizens have registered to vote, with 50 million new voters since the 2012 elections.
The app is available in 14 states among them New York, Florida, North Carolina, Pennsylvania, Nevada, Texas and Virginia.
The Justice Department is sending 500 election monitors to 28 states, among them Florida, New York, North Carolina and Texas, on Tuesday. It is the first election in 50 years without federal power to mandate observers inside polling stations, a result of the 2013 Supreme Court ruling, known as the Shelby County v Hodler decision which struck down sections 4 and 5 of the Voting Rights Act. Monitors this year can't enter polling places without the authorization from local election officials.
"It is my understanding the Inter-America Commission on Human Rights is sending observers for the first time in US history," Cartagena told RT adding that Justice Department monitors were good at observing linguistic problems, especially for Spanish voters.
"We developed the app to extend our reach. We have 350 volunteers, the bulk of them are attorneys, many are also law students and activists and we have spread them out in five different states," said Cartegena. "Our app increases our opportunity to hear what's happening in the ground."
Cartegena said the increase of new voters and the issue of an election system to absorb new voters presents one problem in the context of a campaign where one of the candidates had alleged the campaign is "rigged" to force his defeat, "could potentially increase voter intimidation on the election day."
He also noted that the repeal of provisions of the Voting Rights Act, that were the result of voter abuse in the past, increased the level of documentation needed to vote. Twelve states passed laws concerning voter documentation. "We hope that this app, plus the experience on the ground from our volunteers, will provide a semblance of information and documentation that will convince the Congress of a need to create additional protections for the right to vote," Cartegena said.