The other guys: Meet third-party US candidates for president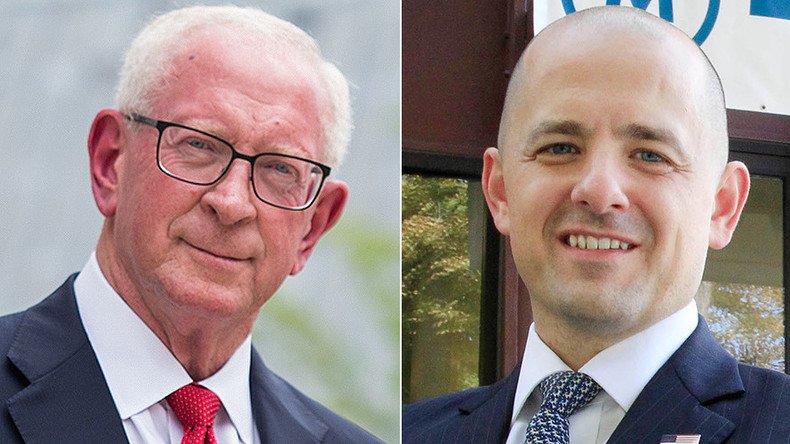 Hillary Clinton and Donald Trump may be dominating the headlines, but there are at least 29 other Americans running for president in this election. Though most don't appear on the ballot in every state, their presence may actually tip the scales this time.
FOLLOW RT'S US ELECTION LIVE UPDATES
Since 1869, the occupant of the Oval office has been either a Republican or a Democrat. With this year's candidates widely considered a choice between two evils, other parties have attracted some of the discontents.
Libertarian Party's Gary Johnson is on the ballot in all 50 states and the District in Columbia. Green Party's Jill Stein made it to the ballot in 40. Twenty-four states will see Constitution Party's Darrell Castle on their ballots, and former CIA operations officer Evan McMullin will be an option in 11 states. While none of these candidates have seen the media coverage of the front-runners, they do appeal to those who disagree with the major party selections. So much so, in fact, that 24 percent of voters in Utah back McMullin, according to Politico.
As a former two-term governor of New Mexico, with a previous presidential campaign behind him, Gary Johnson was perhaps best-placed of all the third-party candidate to make a breakthrough.
Over the past decade the libertarian rhetoric – once regarded as marginal idealism – has seeped into the mainstream, with many of Donald Trump's small-government, low-tax and isolationist positions echoing the talking points of Ron Paul, and Johnson himself.
Yet Johnson's shot at legitimacy was gone at one precise moment – on September 8, when eyes widened, mouth agape in confusion, he uttered the now-iconic phrase "And what is Aleppo?" Suddenly, having a pot-smoking, house-building homespun wisdom-spewing maverick in the White House seemed less appealing.
The rest of the campaign has been dominated by reporters attempting to catch out Johnson on another gaffe, with some success, as when Johnson failed to name a favorite foreign leader (or even just the leader of North Korea). The increasingly exasperated third-party candidate has valiantly tried to keep the campaign on track, but if the Libertarians – as a party, not an ideological movement – want to be taken seriously, they may have to wait another four years.
Jill Stein would be justified in feeling aggrieved that during the current election cycle her thunder as a woman candidate has been stolen by Hillary Clinton, while Bernie Sanders has camped on much of her ideological ground (while endorsing Hillary).
Yet the former doctor has remained tenacious and forthright presence, taking potshots at both Trump ("proto-fascist") and Clinton ("corruption queen") while offering a radically progressive platform.
Like any Green candidate in a close race, she is haunted by the collective memory of Ralph Nader's quixotic and disastrous 2000 campaign, the ramifications of which have overshadowed all original intentions. Stein says she has no plans to drop out, even in states where the margin between Clinton and Trump is razor-thin. The Greens are on the ballot in 44 states.
Constitution Party's Darrell Castle calls himself a strict constitutionalist. The Vietnam veteran-turned-lawyer decided to run for president because "I want to restore the Constitution to what it says it is, the supreme law of the land," he explained to RedState.
Castle is so committed to the US Constitution that he proposes withdrawing from the UN, "an affront to liberty and human dignity," because "ideas of America are not compatible with membership in the United Nations." He is on the ballot in 43 states.
While McMullin does not represent any party in particular, he was put forth by the "Never Trump" faction of the GOP scandalized by the Republican nominee. He is on the ballot in eleven states, but has focused on his home in Utah. The Mormon-majority state turned its support towards McMullin following the recent release of a scandalous 2005 secret tape of Trump speaking lewdly about women he found attractive.
Defined as a constitutional conservative, McMullin hopes to "restore the constitutional system of checks and balances, which designates Congress—not the president, the courts, or the bureaucracy—as the only body capable of making laws," according to his website.
His issues follow the standard Republican template of securing borders, enforcing laws to discourage illegal immigration, upholding the Hyde Amendment and overturn the Affordable Care Act. For some, his appeal is the more classic Republican image as opposed to Trump's more controversial stance.
While Clinton is the first female nominee of a major political party, the presidential tickets of Party for Socialism and Liberation and Socialist Workers Party are led by women – Gloria LaRiva and Alyson Kennedy, respectively. Neither party is on the ballot in more than 20 states, however.
Socialist Party USA is running Emidio "Mimi" Soltysik, while Reform Party USA's Rocky de la Fuente is also listed as an independent candidate in several states.
Twenty-one more men and women are listed as third-party or independent candidates on fewer than five state ballots, with scores more qualifying for write-in status as well.
You can share this story on social media: