#Podesta33: WikiLeaks releases latest batch of emails from Clinton campaign chair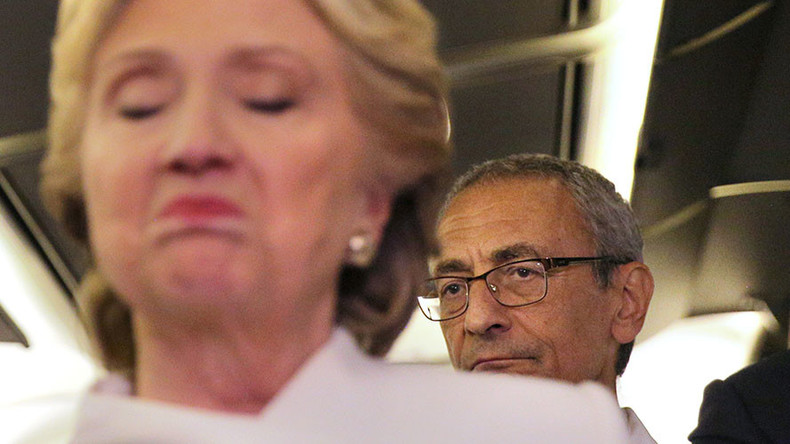 WikiLeaks has published its 33rd tranche of emails from the hacked account of Hillary Clinton's campaign chairman, John Podesta.
The whistleblowing organization has now published more than 55,600 emails in a series of daily online releases which it said were building towards the November 8 presidential election.
Emails released Sunday included messages accusing Chelsea Clinton of using Clinton Foundation funds for her wedding as well as leaked transcripts of Bill Clinton's fundraising speeches.
READ MORE: 'Leakers should shut up': Podesta slams FBI probe into Hillary's emails
WikiLeaks has claimed its email publishing servers suffered a sustained DoS attack after it released #DNCLeak2 over the weekend.
Goldman Sachs speeches
In an email from January 23, 2016 Clinton Research Director Tony Carrk quoted the Democratic presidential nominee apparently expressing little appetite for prosecuting rogue Wall Street bankers.
In the mail to Clinton campaign Director of Communications Jennifer Palmieri, Press Secretary Brian Fallon and Podesta, Carrk said he was sending excerpts from Clinton's Goldman Sachs speeches.
"I'm not interested in, you know, turning the clock back or pointing fingers," Clinton is reported to have told Tim O'Neill, formerly of SJU Wall Street Trading Room and Credit Suisse, following a paid speech.
Clinton apparently then went on to recommend that the financial sector take a leading role in setting out regulations for their own troubled industry: "The people that know the industry better than anybody are the people who work in the industry. There's nothing magic about regulations, too much is bad, too little is bad."
Less than one year earlier, Democratic media adviser Mandy Grunwald suggested to Podesta in another communication leaked Monday that Clinton should take a conciliatory tone with regard to Wall Street.
"I would include something from the Maggie Haberman piece on HRC's Goldman Sachs speech," writes Grunwald.
"Something like, "When HRC recently spoke to bankers at Goldman Sachs, instead of holding them accountable for their activities that crashed the economy, she told them that banker bashing was foolish and had to stop. She said "soothing" that we all got into our economic problems together."
'Illegal ivory' as leverage on China
Hillary Clinton directed her now-campaign chair Podesta to use reports of illegal elephant tusk smuggling by Chinese government officials as "leverage" during a 2014 White House visit to the nation.
Three days before President Obama's visit to Beijing in November 2014, the former secretary of state highlighted a NY Times article on how Chinese delegates reportedly smuggled home poached ivory from Tanzania.
A message from Clinton's hrod17@clintonemail.com opens by praising Podesta's "teasing" of reporters and "flashes" of a smile at a recent press conference before asking the then-White House adviser to raise the ivory story with China's president directly.
"On China, I know you'll be in Beijing next week, so am sending a news report about how Xi's official party on its visit to Tanzania loaded up their planes w poached ivory, likely w full knowledge of [President Jakaya] Kikwete's government," Clinton writes.
"Please raise this issue directly w XI, both because it is critical on the merits but also because it's another way you can gain some leverage with the Chinese."
The email subject line was, "Below is what I sent POTUS on election and China poaching."
A 'fact sheet' provided by the White House regarding Obama's visit shows discussions centered on the ebola crisis, economic relations, and a "shared vision for Afghanistan." An effort to work together to "stop the trade in illegal wildlife products" is also mentioned.
Clinton 'totally blew' crime question
New York Mayor Bill de Blasio thought Clinton "totally blew" a debate question about her support for a controversial federal crime bill passed by her husband.
In a March 2016 email, de Blasio was less than impressed with Clinton's attempt to pass off a question on mass incarceration to her Democratic rival Bernie Sanders back in March.
"Hillary was fantastic on the gun control answer, then totally blew the mass incarceration question," de Blasio wrote to Podesta.
The question was posed during a live CNN debate by anchor Don Lemon, who asked Clinton why black people should trust her to end a pattern of mass incarceration when she supported a 1994 law which many blame for "locking up a generation of black men."
Clinton began her answer by reminding people that Sanders also supported the bill, a tactic which appears to have irked Mayor de Blasio.
"Why on Earth did she say 'Are you going to ask Senator Sanders that question?' instead of just addressing the issue," de Blasio wrote.
"When she makes it about her, she loses the high ground. Stating the obvious, I know, but she keeps doing it…"
Podesta brothers plan to influence India on NGO clampdown
Podesta sought to enlist the help of his lobbyist brother to influence an Indian Intelligence Bureau crackdown on Greenpeace and a key donor, the Ford Foundation, Monday's leaked emails reveal.
Correspondence between John and Tony Podesta from May 2015 show the pair planned a lunch with the Indian ambassador to discuss a "very serious situation" facing Greenpeace in which the Indian government accused the group of financial irregularities. The claims eventually led to the cancellation of its license to operate there.
The bid to influence India's decision-making came at the request of Karen Sack, managing director of conservation group Ocean Unite, who asked if John Podesta could get in touch with his brother at The Podesta Group.
"Apparently The Podesta Group has the contract for the Republic of India in the US, but Kumi [Naidoo, Greenpeace executive director] has no way to reach Tony or another principal," Sack writes.
John Podesta forwarded the "small request" to his brother, highlighting Kumi Naidoo's large following globally.
"Want to talk to the head of Greenpeace? Kumi Naidoo is a very well known South African with a big international following, but I think the GOI [Government of India] likely to stick it to them."
He also explained he was trying to use his influence to help the Ford Foundation charity, which had similarly "got on the wrong side of GOI". However, he expressed a belief that their issue "can be more easily resolved."
A reply from Tony Podesta proposes a lunch with an Indian ambassador as well as confirmation he would be "happy" to talk to Greenpeace.
A leaked July 2015 email about funding shows Podesta describing global charity the Ford Foundation as a "mainstay" for the Center for American Progress think-tank, which he founded in 2003.
Clinton's emails could 'either win 49 states, or lose 49 states'
As previously reported, in March of 2015, Clinton's camp were debating whether Hillary should make a joke about her "email situation".
Staffers were "nervous" about the "potentially nuts" move and, in freshly leaked correspondence, sought advice from Philippe Reines – a former senior adviser from Clinton's days as Secretary of State and someone who was likely privy to the contents of said emails.
READ MORE: 'We are nervous about this': Team Clinton weigh email server jokes in #Podesta15 release

"Trust me, most of the email themselves are funnier than any joke we can come up with. Read in total by America she would either win 49 states, or lose 49 states. I go back and forth," said Reines.
"But I would not make a joke just for the sake of making a joke, because email retention = Benghazi," he warned.
"We can't jam State to release them at this point, but if Dan [Schwerin, Clinton's speech writer] can think of a light way to say "I am proud of the work we did at State and hopefully at some point everyone will be able to read what's in them as a way to better understand that work…" Reines suggested.
HuffPo a clandestine mouthpiece for Democrats?
A social action group classified The Huffington Post as a means by which to surreptitiously peddle pro-Democrat messages back in 2008, according to a leaked email by strategist Susan McCue.
In April 2008, McCue – president of Message Global, a self-described social action group – recounted a conversation she allegedly had with Arianna Huffington. The email was about a progressive media project and was sent to John Podesta, David Brock of Media Matters and Tom Mazzie of MoveOn.org.
According to McCue, who was formerly chief of staff for Nevada Senator Harry Reid and once listed by GQ Magazine among the 50 most powerful people in Washington, Huffington was interested in allowing her publication to become a political mouthpiece.
"I spoke w Arianna abt PMUSA Board [Progressive Media USA] and will send her more info. She is enthusiastic abt the project but asks if she's more useful to us not being on the Board and, instead, using Huffpo to echo our message without any perceived conflicts," McCue wrote.
You can share this story on social media: