One NYPD officer dead, another wounded in robbery shootout
Published time: 4 Nov, 2016 19:11
Edited time: 19 Dec, 2016 17:55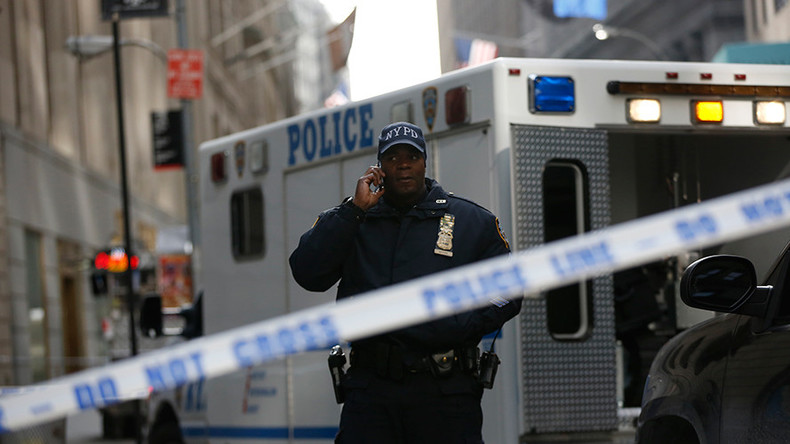 Two New York Police Department officers have been shot in the Bronx and transported to the hospital. One of the officers has died, according to multiple reports. The perpetrator was shot and killed by other officers.
The officers were taken to the hospital in a police cruiser, and a request for blood to be available was made, according to scanner traffic.
BREAKING: 2 cops shot in @NYPD43Pct, transported to Jacobi Hospital, per @NYPDnews spokesman.

— (@MylesMill) Nov 04 2016
The incident took place in New York City's 43rd Precinct, just south of the Bronx Zoo, near the intersection of the Bronx River Parkway and the Cross Bronx Expressway.
The situation is "currently developing," an NYPD spokesperson told the New York City Patch, adding that he did not have any other information.
Two NYPD police officers have been shot in the Bronx and have been removed to the hospital. Updates to follow.

— NYPD NEWS (@NYPDnews) November 4, 2016
Both officers are believed to be sergeants, one of whom may be in critical condition, sources told NY1.
One of the officers is believed to have been shot in the head, while the other was reportedly shot at least ten times in the leg, sources told WPIX.
The officers were responding to a robbery in progress at 1460 Beach Avenue when they were shot, police sources told WPIX.
READ MORE: 3 NYPD officers injured in incident involving man with meat cleaver (PHOTOS, VIDEO)
One of the officers died at the hospital, while the gunman died at the scene, NY1 reported.
The heavily armed suspect was Manuel Rosales, 35, of Long Island, sources told the New York Post. He reportedly knew the women who lived at the location of the home invasion.
Mayor Bill de Blasio is on his way to Jacobi Medical Center, where the officers are, NY1 reported.
The second officer is expected to survive, the New York Daily News reported.
The officers were "ambushed," a source told the NY Daily News.
Investigators appear to be focusing on a vehicle that crashed on the sidewalk at the scene.
On Wednesday morning, two police officers were shot and killed "ambush-style" in Des Moines, Iowa. Sgt Anthony 'Tony' Beminio and Urbandale Police Officer Justin Martin were shot dead while sitting in their cars in two related incidents about 20 minutes apart. The suspect, Scott Greene, later turned himself in.
Des Moines PD paired up their officers as a precaution following the shootings.
The number of police officers killed in ambush-style attacks is up by 300 percent from 2015, according to the National Law Enforcement Officers Memorial Fund. A report published by the organization showed that 14 officers were killed in ambushes between January and the end of July 2016, including eight in the Dallas and Baton Rouge attacks over the summer.