2 Chris Christie allies found guilty on all counts in 'Bridgegate' scandal
Published time: 4 Nov, 2016 15:36
Edited time: 5 Nov, 2016 09:45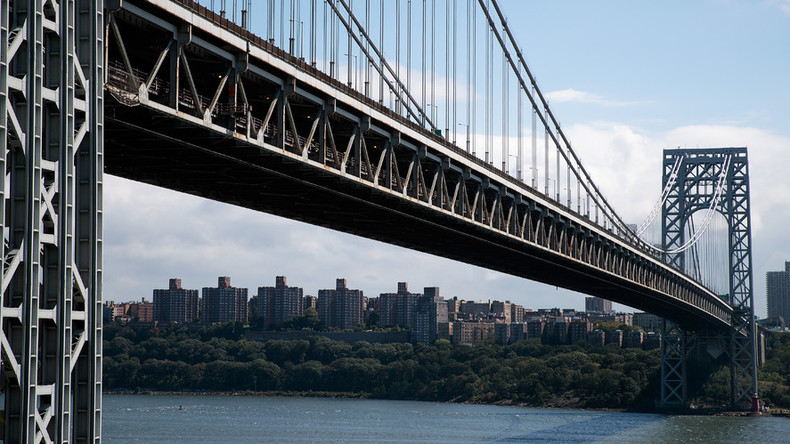 Bill Baroni, the former deputy executive director of the Port Authority, and Bridget Kelly, Governor Chris Christie's former deputy chief of staff, were both convicted on all counts for their role in lane closings of the George Washington Bridge in 2013.
The federal jury took five days to reach a verdict in the scandal that led to an epic traffic jam at the George Washington Bridge following the illegal lane closings.
Prosecutors argued Kelly and Baroni plotted with Christie ally David Wildstein to close lanes at the bridge and create gridlock in September 2013 to punish the Democratic mayor of Fort Lee, New Jersey for not endorsing Christie for re-election.
They were indicted more than a year ago on nine counts of conspiracy and fraud in connection with the scheme.
The most serious charges carry up to 20 years in prison. Sentencing is scheduled for February, 2017.
One of Kelly's emails was a crucial piece of evidence in the trial in which she wrote: "Time for some traffic problems in Fort Lee." Then, as the four days of gridlock unfolded and Fort Lee Mayor Mark Sokolich complained about children unable to get to school, she texted: "Is it wrong that I am smiling?"
Kelly told the court she was referring to what she thought was a traffic study and expressed satisfaction that it was going well. That didn't explain why Kelly deleted the messages, although her lawyer explained she feared would be made a scapegoat.
The government's key witness was Wildstein, a GOP operative and political appointee to the Port Authority of New York and New Jersey, who admitted masterminding the plot. Wildstein pleaded guilty in May 2015 on two federal counts of conspiracy as part of a plea agreement.
While Christie was not indicated as part of the federal investigation, he does face a misconduct complaint. The Bridgegate scandal certainly affected the outcome in his bid to be the 2016 GOP presidential nominee.
A judge ruled last month that a citizen's official misconduct complaint against the Republican for his reported role in politically-motivated lane closures can move forward.
Municipal Presiding Judge Roy McGeady signed a criminal summons on October 13 that will go to the Bergen County prosecutor's office, which will decide whether or not to bring the case before a grand jury, which could result in a possible indictment.
New Jersey activist Bill Brennan in his complaint claimed that Christie knew of the plan to force lane closings near the George Washington Bridge while it was happening.
Brennan said part of the reason he filed the complaint was because the four days of lane closures in September 2013 cost New Jersey taxpayers millions of dollars.
The complaint was based on testimony made during a federal court case regarding the closures. Wildstein said that he and Baroni made Christie aware of the plan while they were attending September 11 commemorations in Manhattan, which was during the four days of lane closures.
Christie reiterated that he was not involved with the decision in a statement about the guilty verdict.
"Like so many people in New Jersey, I'm saddened by this case and I'm saddened about the choices made by Bill Baroni, Bridget Kelly and David Wildstein. Today's verdict does not change this for me," the governor said. "But let me be clear once again, I had no knowledge prior to or during these lane realignments, and had no role in authorizing them."