Christie knew about Bridgegate lane closings while denying it – prosecutor
Published time: 19 Sep, 2016 21:21
Edited time: 13 Oct, 2016 16:46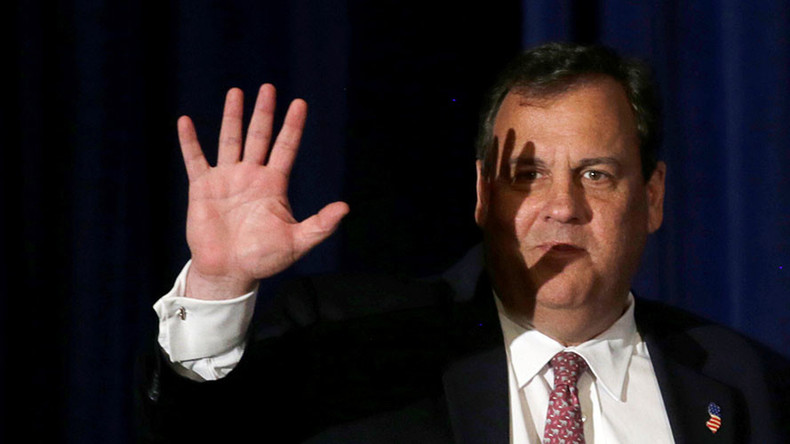 A witness will testify that Republican Governor Chris Christie was told about the plan to force lane closings near the George Washington Bridge while it was happening, according to federal prosecutors. It is a claim Christie in the Bridgegate scandal has contested for five years.
Assistant US Attorney Vikas Khanna told jurors on Monday that a Port Authority official, David Wildstein, will testify that he and defendant Bill Baroni made Christie aware of the plan while they were attending Sept. 11 commemorations in Manhattan.
"The evidence will show that…they bragged about the fact that there [were] traffic problems in Fort Lee and that [Fort Lee] Mayor Sokolich was not getting his calls returned," Khanna said in opening statements at the trial of Bill Baroni and Bridget Kelly, two former appointees of Christie, according to the Associated Press.
Khanna told jurors that Wildstein and the government's key witness will testify he and Baroni made Christie aware about the scheme to close lanes at the bridge at the very moment traffic was at a standstill in Fort Lee. The closings were intended as political pay back after the Fort Lee Democratic mayor declined to endorse Christie in his reelection bid.
Christie, a former presidential candidate and current Donald Trump surrogate, was not charged in the federal investigation, and a New Jersey state legislative probe also concluded he didn't know about the alleged scheme.
"No one has ever been able to prove that I knew anything or had any role in this and this trial will just confirm that," Governor Christie said last week, maintaining his innocence.
The aides' lawyers have also said Christie knew what his allies were doing, which Christie denied repeatedly. The prosecutor's statement on Monday was striking in confirming that assertion.
Kelly and Baroni said in court filings that other people with more power and influence were involved but aren't being prosecuted.
Prosecutors will introduce texts and emails showing the defendants joking about the traffic jams, including an email from Kelly to Wildstein, a month before the traffic jams saying, "Time for some traffic problems in Fort Lee." Kelly was fired over the incident.
According to the federal indictment, Kelly and Baroni conspired to reduce access lanes to the George Washington Bridge in Fort Lee, across the Hudson River from New York City, in September 2013 as political payback. About 150,000 vehicles cross the bridge each day, making it one of the world's busiest. The gridlock paralyzed the New Jersey town for four days.
Baroni was a top Christie appointee to Port Authority of New York and New Jersey, which operates the George Washington Bridge, which straddles the Hudson River connecting New Jersey and New York. Kelly was Christie's deputy chief of staff.
Baroni and Kelly face counts of wire fraud, conspiracy, deprivation of civil rights and misusing an organization receiving federal funds. The wire fraud and conspiracy charges carry a maximum of a 20-year prison term.