SpaceX's Falcon 9 fueling plan alarms NASA advisory panel – report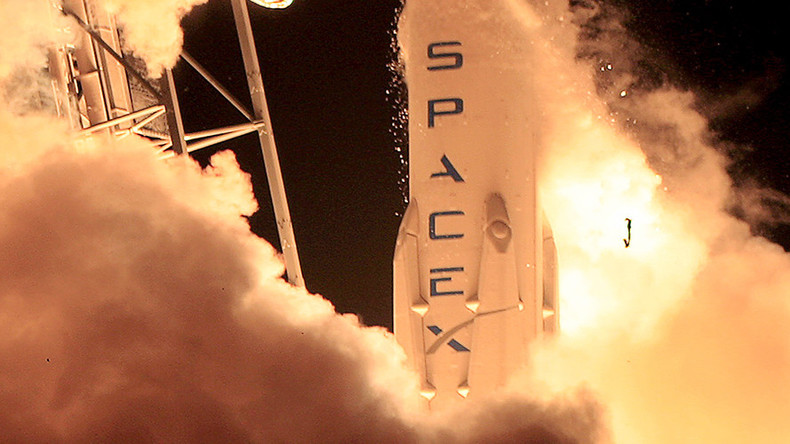 A NASA advisory panel has reportedly sounded the alarm over SpaceX's unique and contrarian fueling process which involves people on board. With the recent Falcon 9 launch pad explosion, NASA is concerned, SpaceX orbit missions would risk lives already at takeoff.
On Monday, the space agency's advisory committee issued yet another warning to SpaceX as Elon Musk's company considers no changes in its fueling procedures, even after the September incident, the Wall Street Journal reported.
In late October, the company said that the Falcon 9 pad explosion was most likely caused by a helium loading issues. The superfast explosion, which happened within just 93 milliseconds while the spacecraft was being prepared, made Musk and the president of his company, Gwynne Shotwell, suspect the fueling process as one of the main reasons.
SpaceX allegedly indicated last year that it would like to stick to its fueling Falcon 9 rocket while crews are aboard, even when it conducts commercial crew launches.
The spacecraft is believed to be the first and only one utilizing super-cooled cryogenic propellant. In December 2015, Musk explained that SpaceX upgraded the Falcon 9. and they were sub-cooling the propellant, particularly the liquid oxygen, close to its freezing point.
Stressing the benefits of the novel approach, he said it increased the density, made the thrust higher and improved the stage separation system.
However, experts were not thrilled by the idea of using the same fueling method, which happens just 30 minutes before the launch and requires astronauts be already strapped into their seats.
A former astronaut and retired Air Force Lt. General Thomas Stafford sent a letter with his concerns to NASA. Stafford, who currently chairs the Advisory Committee, was stressing that SpaceX's practice would go against decades of international space launch policy.
He has called fueling "a hazardous operation" and said that SpaceX's approach has been questioned by many experts, "particularly the people who had experience over the years," according to the Journal.
When asked during the meeting Monday whether the space agency responded to concerns, Stafford said that he had a phone call with NASA's Associate Administrator for Human Exploration and Operations, William Gerstenmaier on the eve of the September 1 Falcon 9 explosion.
"We have not heard a thing," he responded, as cited by the Journal.
According to SpacePolicyOnline.com, Stafford said that he expected to be briefed in February, but that did not happen.
Following the meeting, NASA sent a statement to Space Policy Online saying that the agency "is continuing its evaluation of the SpaceX concept for fueling the Falcon 9 for commercial crew launches."
You can share this story on social media: