Police shoot rubber bullets at Dakota Access Pipeline protesters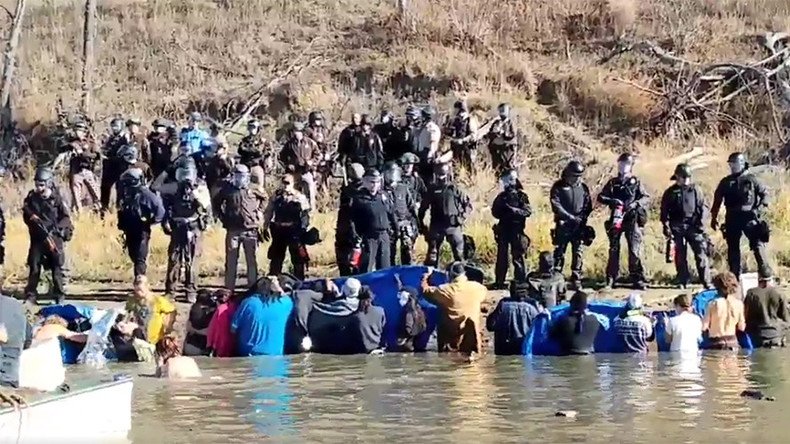 In another standoff between state police and protesters against the Dakota Access Pipeline, rubber bullets, pepper spray and mace might have been used. One protester was rushed to a clinic, according to sources.
Hundreds of people came to the banks of the Cannonball River on Wednesday morning to pray, with water protectors going into the river while others remained on the shore.
They were confronted by dozens of armed police. The confrontation started after protesters tried to reach the other shore.
There they were pushed back into the water.
Others were hit with mace, pepper spray, and rubber bullets, according to RT's Alexander Rubinstein.
Three were allegedly shot with rubber bullets. One was reportedly taken to a clinic.
Dakota Access protesters reported police firing rubber bullets at "point blank" range. Journalist and former congressional candidate Erin Schrode posted on social media, "I was just shot. Militarized police fired at me from pointblank range with a rubber bullet at #StandingRock."
Antonia Juhasz, a journalist and activist, reported on social media that a 16-year-old boy was shot at "point blank range by police w/ rubber bullet" and that he was "in critical condition w/ internal bleeding," citing a "Trusted source."
16 year old boy shot a point blank range by police w/ rubber bullet at #NoDAPL, in critical condition w/ internal bleeding. - Trusted source

— Antonia Juhasz (@AntoniaJuhasz) November 2, 2016
Another activist, Conor Handley, reported similarly on Facebook that "a young man was shot point blank with a rubber bullet and has been coughing up blood," while "another woman was shot by one of heavily armed officers on a boat."
Live feed from Floria Ptesan Hunka said that police fired rubber bullets and one had hit a woman who earlier had been interviewed by CNN. The woman was later identified as Erin Schrode.
According to a post by Conor Handley, the hill where many of the water protectors tried to reach in the morning is where Ocenti Sakowin ancestors are buried, and the place is being desecrated by the police and Dakota Access Pipeline crews.
One protester confronted police about the desecration.
Nope, cop river patrol now demanding bridge be taken down, threatening arrest. #noDAPL

— Jason Patinkin (@JasonPatinkin) November 2, 2016
Protester shot in back, not live bullet. Medic says may have injured lung, coughing up blood, being rushed to clinic. #noDAPL

— Jason Patinkin (@JasonPatinkin) November 2, 2016
Breaking: hundreds of #NoDAPL water protectors attempting to cross foot bridges built over Cannonball river to reach DAPL construction area

— Unicorn Riot (@UR_Ninja) November 2, 2016
On Tuesday, President Barack Obama said the US Army Corps of Engineers was considering ways of rerouting the Dakota Access Pipeline amid an eight-month-long protests campaign by the Standing Rock Sioux tribe.
The Standing Rock Nation is protesting the pipeline's route due to the potential threats it poses to drinking water supplies and sacred sites. Their cause has attracted celebrity activists and millions of dollars in support.
"My view is that there is a way for us to accommodate sacred lands of Native Americans, and I think that right now the Army Corps is examining whether there are ways to reroute this pipeline," Obama told news website NowThis on Tuesday.
Government agencies will let the situation "play out for several more weeks and determine whether or not this can be resolved in a way that I think is properly attentive to the traditions of First Americans," Obama said.
The $3.8 billion pipeline, which is being constructed by Energy Transfer Partners, would transport 470,000 barrels of crude oil from the Bakken oil field in North Dakota through three other states to a refinery near Chicago.
Amnesty International USA announced on Friday they were sending a delegation of human rights observers to monitor the response of law enforcement to protests by Standing Rock Sioux and their supporters.
AIUSA sent a letter to Morton County Sheriff's Department, expressing concern about the degree of force used against protesters.
Police have responded to protesters with pepper spray and bean bags, and in one instance, private security staff used guard dogs, Amnesty said.
"Those recently arrested have reported being strip searched and forced to pay bail for minor offenses. Members of the media and legal observers have also been arrested or charged with minor offenses," said the organization. "These people should be not be treated like the enemy."
You can share this story on social media: