The Sanders curse: Insulin manufacturer's stock drops after being blasted by Bernie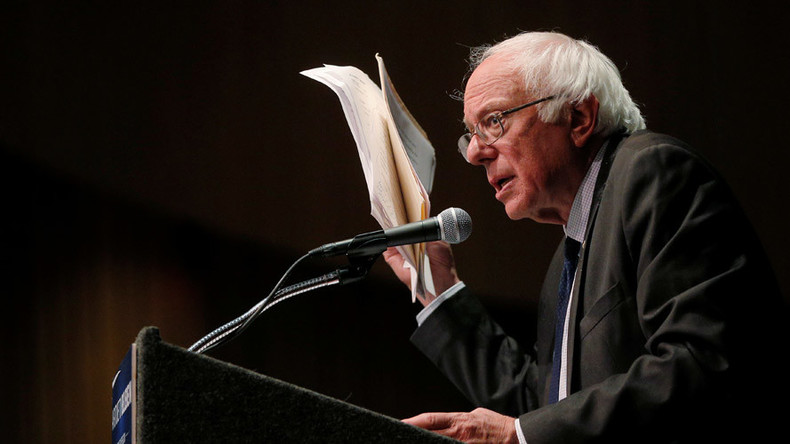 Bernie Sanders isn't on any presidential ballot, but he has managed to overcome the presidential election media frenzy. After tweeting out an article detailing the price increase of a diabetes drug, the manufacturer's stock hit a seven-month low.
Humalog, manufacturer Eli Lilly's stock, hit a seven-month low.
Soaring drug prices are something Vermont Senator Bernie Sanders has long fought against, and he may finally be seeing some results. A tweet from his account asked, "Why has the price of Humalog insulin gone up 700% in 20 years?" and included a graphic from a Washington Post article about the soaring prices of Lilly insulin. The tweet was not signed with a "-B," so it presumably was from a staffer, but that didn't stop Eli Lilly's stock from plummeting two points.
Eli Lilly and Novo Nordisk are the two biggest insulin manufacturers in the country. The limited amount of competition could explain why the price of Eli Lilly's Humalog has increased from $21 a vial to over $250 over the past 20 years, according to the Washington Post.
Shortly after the tweet, Eli Lilly's stock hit a seven-month low. It followed a disappointing sales quarter. Although it rebounded later, Sanders' account continued to tweet against them, saying, "Eli Lilly and Novo Nordisk clearly care more about their profits than their patients."
The revelations about the lifesaving drug were featured prominently on both of Sanders' Twitter pages with his @SenSanders account tweeting out a link to the Post article, calling the drug industry "greedy."
The staff operated @BernieSanders account tweeted a video of Sanders explaining the situation, saying: "What you have is an incredibly powerful industry charging any price you want and the result of that is one out of five Americans can't afford the medicine that they need."
"Five major companies made $50 billion," Sanders said to show the result of increasingly high drug prices.
To show how these increases affect the consumer, one patient spoke in the video. Donald Struthers explained that his insulin copay was $360 for a single vial of insulin and that he could not afford it. In an attempt to be treated for his high sugar levels, he tried to go to the emergency room.
The doctor gave him an injection of insulin, but proceeded to throw the rest of the vial away and would not let him take any extra.
"It's so unpredictable what this disease can do to you," he said. He described seeing his mother become paralyzed from the disease and expressed great fear.
Eli Lily has released a statement defending the price of Humalog, claiming that profits from the lifesaving drug have been declining, saying, "When Lilly released third quarter earnings on October 25, the biggest miss noted was Humalog, whose US revenue fell 14 percent, driven by a 24 percent decline in net price."
"A permanent solution that gives everyone who uses insulin reasonable access will require leadership and cooperation across many stakeholders, including manufacturers, (pharmacy benefit managers), payers, and policymakers," the statement said. "That's because the answer itself isn't simple."