Transit strike leaves Philadelphia stranded week before elections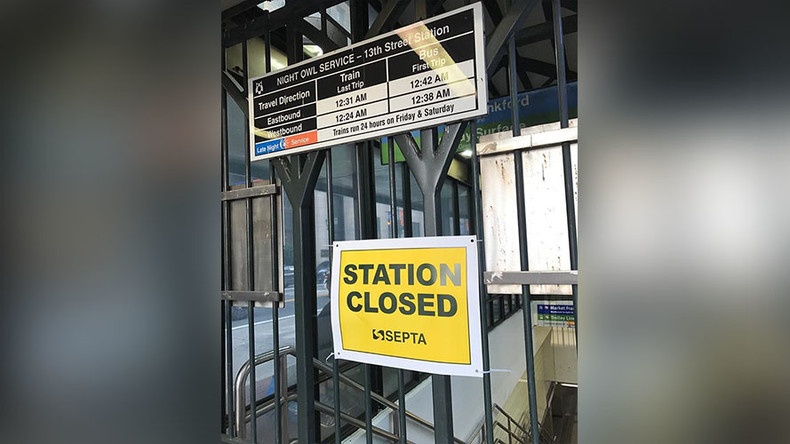 Nearly 5,000 SEPTA workers in Philadelphia, Pennsylvania have gone on strike, stranding commuters in sixth-largest US transit system just a week before the presidential election. Among the union grievances are pensions, healthcare and bathroom breaks.
The Southeastern Pennsylvania Transportation Authority normally serves 400,000 daily riders, including more than 60,000 school students. Philadelphians scrambled to find alternate transportation as SEPTA's buses, trolleys and subway trains shut down at 12:01am on Tuesday.
"Despite months of constructive and innovative proposals from our side of the table, management has refused to budge on key issues including safety issues that would save lives and not cost SEPTA a dime. There is no new agreement, so we are on strike," said Willie Brown, president of Transit Workers Union Local 234.
Reports say the union balked at the proposal to hike members' healthcare contributions from $552 a year to $6,000 in order to maintain the same level of medical coverage, and objected to the $50,000 pension cap for workers but not for managers. Break policies did not leave vehicle operators enough time to go to the bathroom between routes, the union said.
The strike "leaves thousands of SEPTA customers without the transit services they rely on for travel to-and-from work, school and medical appointments," SEPTA spokesman Andrew Busch said in a statement. "In doing so, Mr. Brown walked away from a contract offer that would have provided his members pay raises, enhanced pension benefits, maintained health care coverage levels and continued job security, while also remaining fair and affordable for the taxpayers and riders who fund SEPTA."
Mayor Jim Kenney advised Philadelphians to make alternate arrangements for commuting or to work from home. "This period won't be easy, but by pulling together as a community we can lessen the difficulties for everyone," he said.
Pennsylvania Governor Tom Wolf, a Democrat, called the inability of the union and SEPTA to come to an agreement "devastating" for hundreds of thousands of people who rely on the transit system every day, and said the strike will "create extreme hardships for the city and for businesses."
Another major concern is that the strike will depress voter turnout in the upcoming election on November 8. Democrats are counting on their traditional base of urban votes to carry Pennsylvania, which is an important battleground state this year. A Franklin & Marshall College poll released Tuesday gives Democrat Hillary Clinton an 11-point lead among likely voters in the Keystone State over Republican Donald Trump, 49 percent to 38 percent.
The last strike by the transit union, in 2009, lasted six days. In 2014, the management prevented a walk-out by offering a two-year contract.
"We are hopeful that a tentative agreement will be reached before Election Day," said Busch.
Stranded Philadelphians seemed more concerned about the weather, however.
"At least if they're going to strike then do it in the summertime," Ramone Whiters, 32, told AP on Tuesday. "It's cold to be stranded out here."