'Dump all those emails': Latest WikiLeaks tranche reveals #Podesta advice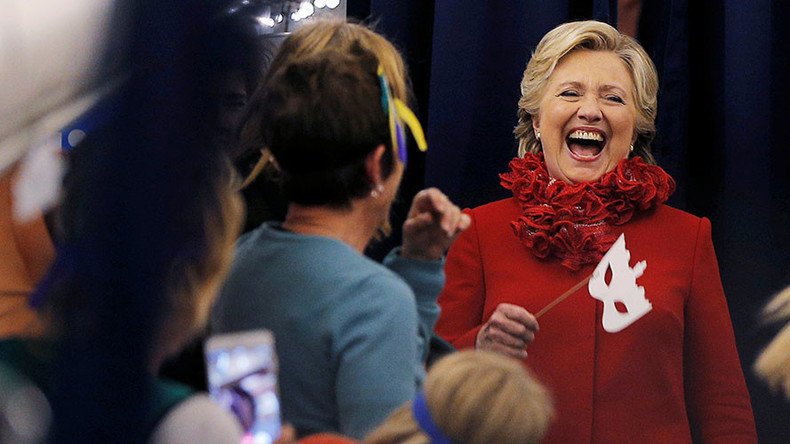 WikiLeaks has released the 25th batch of emails from Hillary Clinton's campaign chair, John Podesta.
The latest tranche consists of almost 2,500 emails, bringing the number released so far to almost 42,000. WikiLeaks has claimed it will publish 50,000 emails in total in the run up to the US presidential election on November 8.
READ MORE: WikiLeaks releases latest batch of #PodestaEmails from Clinton campaign chair
Yesterday's emails revealed that Anthony Weiner was a cause for concern within the Clinton campaign as far back as 2011. Emails from the former congressman's laptop are key to the FBI's decision to reopen an investigation into Clinton's use of a private email server.
'Dump all those mails'
"We are going to have to dump all those emails," Podesta tells Clinton aide Cheryl Mills in an email dated March 2, 2015, a week before Clinton addressed the email scandal at a press conference, claiming there was no classified material sent via the private server.
It's not clear which emails Podesta is referring to in the thread, but Podesta tells Mills: "better to do so sooner than later".
Mills replies: "Think you just got your new nick name."
'The power of torture'
"There is something to be said for the power of torture," Clinton aide Neera Tanden tells Podesta in a July 2015 email showing her frustration over Clinton's use of a private email server.
Tanden had previously told Podesta that whoever told Clinton she could use the server should be "drawn and quartered".
Ground Bernie 'to a pulp'
Podesta is told "Bernie needs to be ground to a pulp" in an email advising him of tactics for dealing with Clinton's rival for the Democratic nomination, Bernie Sanders.
The mail from campaign consultant titled 'Friendly advice. No mercy' was sent in February 2016, and tells Podesta to "Crush him as hard as you can."
Meanwhile, just one month earlier, columnist Brent Budowsky wrote to Podesta to strongly advise the campaign against using Chelsea Clinton as a "political attack dog attacking Bernie over healthcare of anything else".
"It is a sign of a campaign that is totally out of touch with what is happening in 2016," he added in the January 12, 2016 email. "Chelsea should be the best salesperson for Hillary to next generation voters, young voters, and voters who want change."
"Campaign needs to calm down, get a grip, think clearly and not panic."
Leaked memo to CNN
An email from June 2015 between members of Clinton's campaign team reveals staff plans to leak a memo to CNN before the rest of the press.
"Unless I hear otherwise, we'll send to our friends and allies list at noon and Jesse will get it leaked to Dan Merica at CNN. We will then give it to anyone who asks," Deputy Communications Director for Hillary for America, Christina Reynolds writes.
The memo in question gives a summary of the campaign's perceived progress at that point and outlines strategy and expectations for campaign volunteers for "the coming months".
'Absolutely the worst'
An email thread from April 21, 2015 entitled 'Takes the cake' blasts a Daily Mail reporter who had recently quizzed Hillary Clinton.
Top aide Huma Abedin writes: "Officially the most intrepid reporter thus far is the daily mail! He hung out at Boston airport with us for 4 hours and flew to dc with us!!"
"Grabbed her [Clinton] when we landed at school airport. Asked her why she didn't take the more convenient flight back from Manchester. Also asked her when she would start answering questions about Ben ghazi [sic]. Charming," she added.
Jesse Ferguson, the Clinton campaign's deputy national press secretary, replied: "He's absolutely the worst and I apologize on behalf of Communications professionals everywhere that you have to deal with him."
Clinton campaign spokesperson Adrienne Elrod responds with just one word: "#creepolla".
Although not identified in the email chain, the Daily Mail's US Political Editor David Martosko has indicated he believes the Clinton staff criticism is about him, incorporating some of the quotes into his Twitter bio.
'We want to get it right'
A February 2016 email from Washington Post journalist Tom Hamburger to Craig Minassian of the Clinton Foundation enquires about a subpoena from the state inspector general "requesting documents and document preservation" from the Foundation.
"We want to be careful with this and get it right," writes Hamburger, but is informed the Clinton campaign will not be responding. His article in the Washington Post a few days later is unclear about the "full scope and status of the inquiry" but reveals the subpoena "also asked for records related to Huma Abedin, a longtime Clinton aide."

'Zap Lanny out of the universe'

Comments made by Lanny Davis, lawyer and former special counsel to President Bill Clinton, on television about Hillary Clinton's email scandal provoked a sharp reaction from Clinton aides in early 2015.
Davis told Fox News host Chris Wallace during a discussion about Clinton's private email server that "there can be a neutral party to review all these records - nothing unlawful."
"I think it is a reasonable idea if anybody has any doubts that there's a delete on a hard drive — to have an independent go inspect her private e-mail?" Davis added.
"We gotta zap Lanny out of our universe. Can't believe he committed her to a private review of her hard drive on TV," Clinton Campaign manager Robby Mook wrote to Podesta on March 8, 2015 after hearing of Davis's comments to Fox that morning.
An email from Davis to his "dear friend Hillary" with the subject title "Personal - a personal favor" was among those found on Clinton's private server and released by the State Department. The message dated September 17, 2010 requested she "talk personally" about his professionalism to a reporter writing a law magazine cover story about Davis.
Podesta doesn't believe Hillary's bad memory
An email from Podesta to Clinton aide Neera Tanden dated September 15, 2015 reveals that even Clinton's campaign chairman had doubts about some of the presidential candidate's claims of forgetfulness.
In response to Tanden's question about why Clinton referred to herself as a "moderate,'" Podesta replied: "I pushed her on this Sunday night. She claims she did not remember saying it. Not sure I believe her."
You can share this story on social media: