Iraqi forces 'pausing' before Mosul advance – Pentagon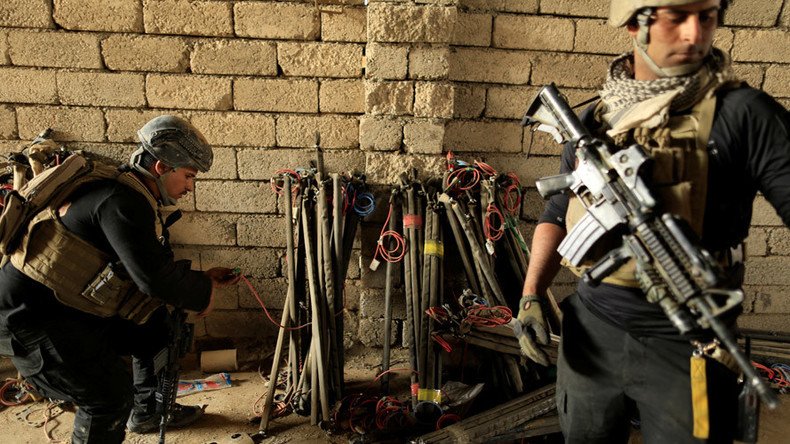 US military officials said that Iraqi soldiers have paused in their advance on the northern city of Mosul – a stronghold of Islamic State terrorists – in order to resupply, reposition soldiers and take extra security measures.
The operation to retake Mosul began ten days ago since then Iraqi security forces and Kurdish Peshmerga forces have been conducting a village-by-village sweeps from the north, east and south heading towards the northern Iraqi city of Mosul.
"They have a plan for how far they want to get each day, and they were able to get to those places faster than they anticipated that they would," US Air Force Colonel John Dorrian, spokesman for the US-led Operation Inherent Resolve, told Pentagon reporters via video conference on Friday.
For now, soldiers in the north and east are five miles away from Mosul, and ten miles away in the south. The city has an estimated 1.4 million residents.
"They are pausing and repositioning, refitting and doing some back clearing" in areas where the Iraqi forces have already made some headway, Colonel Dorrian said. "We think it will just be a couple of days and then we are back on the march toward Mosul. That's their game plan and we believe they will stick to it."
US Central Command head General Joseph Votel told reporters on Wednesday that nearly 1,000 Islamic State (IS formerly known as ISIS/ISIL) fighters have been killed since the operation began. The Iraqi government said 57 of its soldiers had been killed, and about 250 wounded, while the Kurdish Peshmerga fighters had about 20-30 fatalities.
Over 100,000 residents have fled Mosul since the offence began. The UN refugee agency foresees an additional 700,000 civilians fleeing the city.
"There's been quite a dramatic upturn in the last few days," said Karl Schembri of the Norwegian Refugee Council, according to AFP, adding there is only enough room in the camps for 60,000.
Dorrian said the US-led coalition has dropped more than 2,500 munitions from warplanes, artillery pieces and rocket launchers during the operation, and destroyed 46 tunnels, 33 truck and car bombs and hundreds of other vehicles and fighting positions since the offensive began on October 17.
Despite the presence of 100 US military advisers and coalition artillery and air support, the 25,000-strong Iraqi ground force has encountered determined resistance from IS. Tactics such as suicide vest and belt attacks, roadside bombs, and vehicles rigged with improvised explosive devices, are designed to halt Iraqi progress toward Mosul and as a distraction as IS fighters retreat, according to the US military.
The Pentagon has estimated there are between 3,500 and 5000 IS fighters in Mosul, and the US military expects the enemy to mount a brutal fight to keep the city they first occupied in June 2014. The operation is expected to take several more weeks and potentially months, but the US military said it is confident Iraqi forces will succeed in liberating Mosul.
"The Iraqis are quite capable of defeating [Islamic State]. They've already pushed them out of all these keys areas around Mosul," Dorrian said. "This is a short pause, and they will continue the operation as they see fit."
You can share this story on social media: