AT&T sold access to customer data to law enforcement – report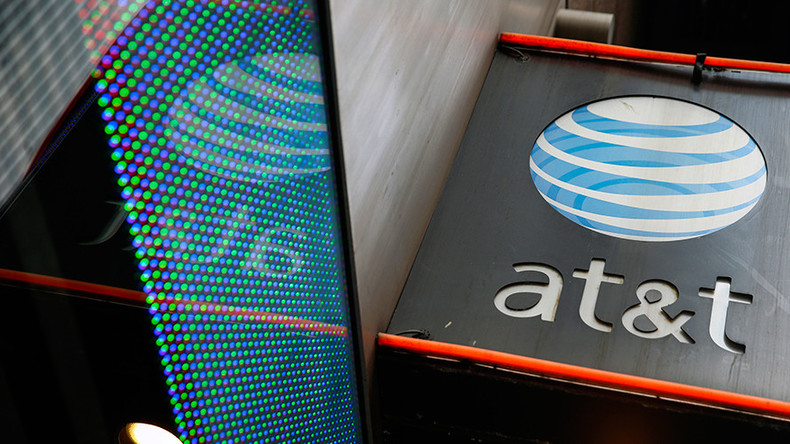 New documents show telecommunications giant AT&T sold customer data to local law enforcement departments for a record-making $100k to $1 million last year. The company is currently seeking a $85 billion acquisition deal for Time Warner.
Documents show the telecommunications giant was not only working with US Drug Enforcement Agency but routinely sold customer data to local police departments who were investigating a range of crimes from murder to Medicaid fraud. The documents were first reported by The Daily Beast.
Under its secretive program called Hemisphere, AT&T could search trillions of call records and analyze cellular data to determine where a target is located, with whom they speak and potentially why.
The documents also show the company only required an administrative subpoena, a lower-level legal document which – unlike a search warrant – does not require authorization from a judge. Police departments paid anywhere from $100,000 to $1 million a year for access to the Hemisphere program. Under the agreement, police were prohibited from disclosing use of the program to the public or even in court.
"Like other communications companies, if a government agency seeks customer call records through a subpoena, court order or other mandatory legal process, we are required by law to provide this non-content information, such as the phone numbers and the date and time of call," AT&T told the Beast in a statement.
Because of the ban on disclosing the existence of the Hemisphere program, law enforcement agencies were covering their bases by later seeking a court order for a wiretap, or trailing a suspect to gather evidence equivalent to what they had acquired through Hemisphere.
Unlike other telecommunications providers, AT&T stores metadata – call time, duration, location data – of its customers going back to 2008. AT&T was one of the first companies to be exposed for its role in government surveillance when it shared its customer's metadata with the NSA.
Mark Klein, a former AT&T technician and whistleblower, revealed details about the NSA installing network hardware at a San Francisco, California site known at Room 641A to monitor, capture and process American telecommunications, beginning in 2002.
"I knew this wasn't legal because the NSA is not supposed to do domestic spying," Klein told RT in an interview in 2015. He said the engineering documents showed "they were tapping into the main data flow on the internet and sending that data down to the secret room."
"I knew that was totally illegal. The apparatus itself did not provide for any kind of selection it was just a vacuum cleaner sweep of everything. That violates the Fourth Amendment right there which requires warrants for specific information," Klein said.
AT&T was also known to have a "partnership" – through its Hemisphere program – with the DEA for the purpose of counter-narcotics operations.
The revelations come as AT&T's proposed $85 billion acquisition of Time Warner has surveillance critics and privacy advocates alarmed.
Jeffrey Chester, executive director of the Center for Digital Democracy, told the Daily Beast he opposed the merger because it would allow AT&T "to use Time Warner's content as bait to invade every aspect of the lives and habits of its nearly 30 million wired customers of its broadband and television services – many through its DirecTV subsidiary – and its more than 100 million wireless subscribers."
"It's commercial surveillance," Chester told the Beast, noting that through mobile devices, AT&T can even pinpoint the geographical locations of users.
You can share this story on social media: