Trump shuts off cash flow to GOP, halts fundraisers until Election Day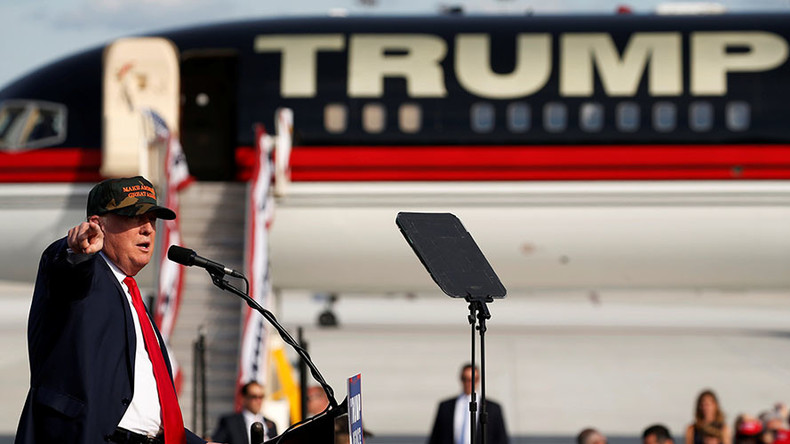 Donald Trump has reportedly stopped his big-ticket fundraisers, shutting off the tap for the Republican Party. The money would have gone to the GOP's get-out-the-vote efforts, but Trump decided he'd rather take matters into his own hands.
"We have minimized his fundraising schedule over the last month to emphasize his focus on political [events]," Steven Mnuchin, Trump's national finance chairman, told The Washington Post. "Unlike Hillary, who has been fundraising and not out and about, he has constantly been out and about."
Democratic presidential nominee Hillary Clinton has at least 41 events for down-ticket candidates, all scheduled between now and November 3.
Trump's last formal fundraiser, Mnuchin said, was held in Las Vegas on October 19, corresponding with the third and final presidential debate.
Trump's race for the White House has benefited the GOP establishment, bringing millions of dollars to the Republican National Committee (RNC). Events organized by Trump Victory, a joint fundraising committee between the party and the campaign, had brought $40 million to the Republicans' pocketbook as of September 30, according to the Post.
"We couldn't be more pleased with how the fundraising has gone," Mnuchin said, despite the fact that Trump's campaign raised not even half as much as Clinton's. The Republican candidate's campaign raised $219 million compared to Clinton's $499 million. "We have big media buys, we have a terrific ground game."
Regardless, these funds are most welcome by the RNC, with Election Day a mere two weeks away. The party's get-out-the-vote efforts would involve armies of field staffers struggling to make sure people vote for GOP candidates up and down the ballot.
"The RNC continues to fundraise for the entire GOP ticket," spokeswoman Lindsay Walters told the Post.
While Trump has halted his direct fundraising, he continues to play a role, though not as big.
"We've kind of wound down," Mnuchin said. "But the online fundraising continues to be strong."
Trump Victory's chairman, New York financier Lew Eisenberg, has also said that events will continue at the state level, with "finance chairs" raising "major donor money for the foreseeable future."
There will also be "ad hoc fundraisers" featuring Trump and his team "when the opportunity presents itself."
Trump's team also continues to target "major donors" through phone calls aimed at securing sizeable contributions.
While Mnuchin said "there is virtually nothing planned," other sources told the Post that there may still be a number of high-dollar events held with Trump surrogates, including his son Donald Trump Jr.
As for financing, Trump also promised to put $100 million of his own money into the RNC's coffers, but has so far given only $56 million.
When asked by the Post about the remaining $44 million, Mnuchin said Trump "has been very supportive of the campaign with his contributions."