#Podesta emails: Clinton staffers aimed for 'moral high ground' in Benghazi testimony
A leaked email thread from Hillary Clinton's staff and lawyers reveals that her team disagreed over elements of her Benghazi testimony and sought to achieve the 'moral high ground' ahead of the hearing.
The email chain, released in the latest batch of leaked emails from her campaign chair John Podesta, began on October 16, 2015 and ended on October 20, 2015 - just two days before the former Secretary of State testified in front of the House Select Committee.
US Ambassador to Libya Chris Stevens, US Foreign Service Information Management Officer Sean Smith and CIA contractors Tyrone Woods and Glen Doherty were killed during an Islamic militant attack on the US diplomatic compound in Benghazi, Libya in 2012. Clinton was Secretary of State at the time.
The fatalities prompted a Congressional hearing into the incident and into alleged security lapses at the facility ahead of the attack.
Emails released by Wikileaks on Saturday reveal Clinton staff debated how best to position Clinton's opening statement for the Benghazi hearing in October 2015.
READ MORE: Hillary's Benghazi testimony punctuated by emails, anger, arguments
In one email, David E Kendall from law firm Williams & Connolly advised changing the statement's description of the Accountability Review Board from "independent" to "non-partisan". He also suggested adding more numbers to back up the assertion that "diplomacy is dangerous".
Both changes were taken on board and appear in the final statement presented before the committee.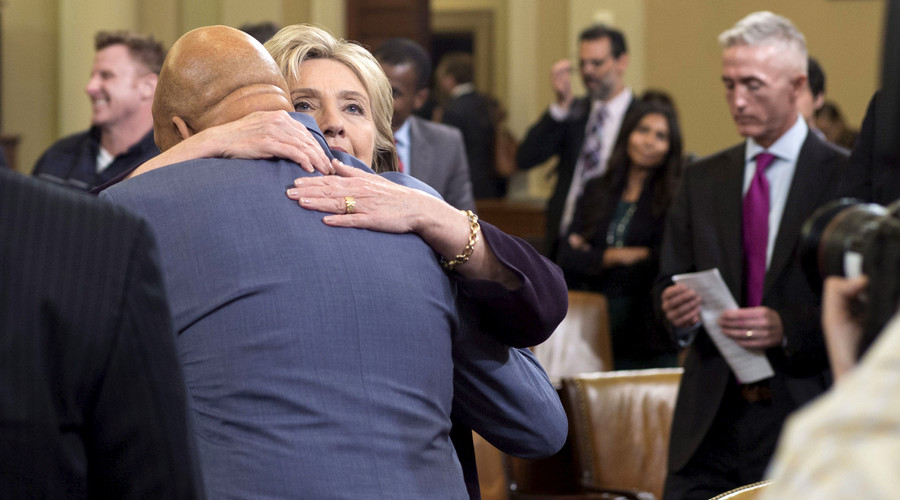 Staff differed over the inclusion of the term, "backs of dead Americans". Mandy Grunwald from Grunwald Communications wrote that she didn't mind the term, "because we need a bit of moral outrage," while Clinton's speechwriter Dan Schwerin noted the line comes directly from Clinton's memoir, "so maybe a good idea to tweak slightly anyhow."
Grunwald, who serves as Clinton's media adviser, added in another email that it "seems odd to put the tributes to the four guys into this statement, since it is mostly the repackaged testimony."
"We can't overdo the tributes to them and I think they should be done in person," she said.
Legal representatives also emphasized the importance of questions about balancing risk, recommending that Clinton's answers show "that the known risks were being balanced with the reasons for being there" and risk assessments were regularly made with input from people on the ground.
The emails also reveal a plan to submit Hillary Clinton's testimony from 2013, which drew concern from her communications director Jennifer Palmieri.
"Know I missed discussions today - but this seems dangerous. If I understand this correctly - we are literally submitting her testimony from two years ago?" she asked.
However she later replies, "I talked to Brian. So long as we do not release the testimony ahead of the hearing - it is okay."
She notes that if it was released to the media ahead of time the press could troll the committee and "we would lose some of the moral high ground we have going into the hearing."
The House Benghazi Committee issued their final report last June, concluding that there was no new evidence of culpability or wrongdoing by Clinton in the 2012 attacks.
READ MORE: Who lied? Parents of Benghazi victims that Hillary called 'liars' sue her for lying
In August the parents of Benghazi attack victims Smith and Woods filed a lawsuit against Clinton for wrongful death and defamation.
You can share this story on social media: