'His proposal sucks': Sanders savaged by Podesta in WikiLeaks' latest Clinton mails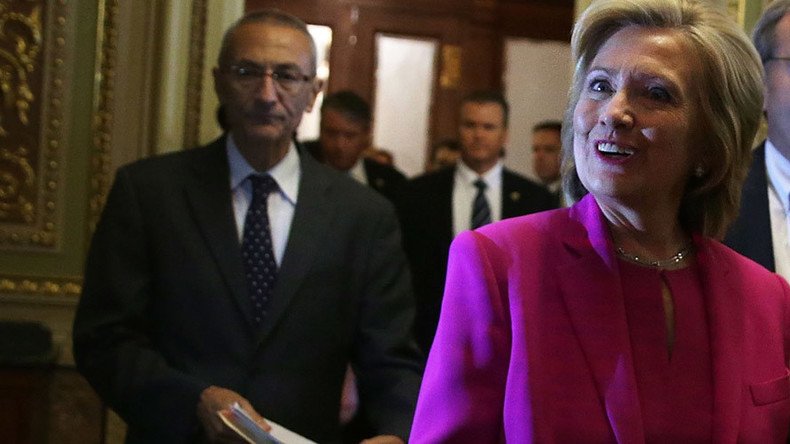 WikiLeaks has released a new batch of emails from Hillary Clinton's campaign chair John Podesta. The latest tranche comprises of around 1,577 mails, bringing the total released so far to 25,000.
WikiLeaks has said it will release around 50,000 mails in total in the lead up to the presidential election on November 8.
The leak comes just a day after WikiLeaks revealed the first batch of emails involving an account Barack Obama was possibly using before winning the election in November 2008.
F**k these a**holes
When the New York Times ran an article about Clinton's email server in July 2015, the campaign were not happy.
The campaign sent a letter to the Times executive editor voicing their "concerns" about the "inaccurate" article, which detailed federal inspectors' request for a criminal inquiry into Clinton's use of a private email server. The use of the word "criminal" was their biggest issue. The Times later removed the word, after making other corrections to the piece.
"It's great," Tanden said on July 30, "F**k these a**holes."
"Love it!" Palmieri responded. "Thanks, Neera."
Tanden then adds that although it "is probably very unhealthy," she's "going to war on this on twitter."
In another email chain, which discusses the letter, between the Clinton campaign's Director of Communications Jennifer Palmieri and press secretary Brian Fallon, the latter cites his primary worry.
"My only concern is stating the article inflicted damage on our campaign. Certainly true but I worry that if we leak the letter, it could be misinterpreted as us admitting the email controversy in general is hurting us," he says.
Bernie's proposal "sucks"
A January 2016 email from Podesta discusses Bernie Sanders' healthcare plan. "His actual proposal sucks, but we live in a leftie alternative universe," Podesta writes in an email to Judd Legum, editor at ThinkProgress.
Ruthless Podesta
Podesta is shown to take leaks seriously, threatening to fire a member of Clinton's staff as an example to others, even if their hands are clean.
Following the discovery that a CNN source had insider knowledge of Clinton lining up an interview with NBC journalist Andrea Mitchell, Podesta says in a mail from March 2015, "I am happy to fire someone for leaking whether they did or they didn't just to make the point."
George Soros
Phone numbers for contacting controversial tycoon George Soros are apparently revealed. In an email from Sara Latham to Podesta three numbers are listed, described as "cell", "home M-Friday" and "home weekends".
Jeb the jerk
Jeb Bush is described as a "jerk" by Robby Mook, campaign manager for Clinton, in a mail to Podesta which discusses Clinton's speech at a fundraiser in Colorado. The mail, dated August 4, 2015, is titled 'Hitting Jeb tonight'.
VP criteria
Clinton's camp reveal their criteria for becoming a VP candidate in a mail where Paul Harstad from Democracy Alliance suggests to Podesta that Lt Governor of California Gavin Newsom be selected for the role.
Harstad's reasoning is that Newsom is "tall, very good looking, looks clean cut, and has a young attractive family." His family's financial struggles and working class background make him an ideal candidate, according to the mail.
"Importantly, I think he is young enough, attractive enough and progressive enough to attract Millennials and Bernie Sanders supporters," he adds.
$
An email from Podesta titled '$' in the late stages of Obama's bid for the presidency in 2008 reveals that Louis Sussman donated $50,000 to his campaign. Sussman would go on to be confirmed in the Senate in July of the following year, days after he was announced as the new US ambassador to Britain.
Bill's AIDS comments
Bill Clinton is criticized for a speech he made in December 2011 in which he said that the price of AIDS drugs should be lowered in the US.
Sent by Ira Magaziner, then-CEO of consultancy firm SJS advisors and CEO and vice chairman of the Clinton Health Access Initiative (CHAI), the mail says the comments could "seriously jeopardize our negotiations to continually lower prices in poor countries."
Magaziner claims that CHAI are in the process of sending Clinton recommendations on how to proceed with the fight against AIDS, but that his comments preempted their counsel on a complicated matter.
"We have always told the drug companies that we would not pressure them and create a slippery slope where prices they negotiate with us for poor countries would inevitably lead to similar prices in rich countries" Magaziner says.
Amitabh Desai, director of foreign policy at the Clinton Foundation, says he will pass the concern onto Clinton.
Hugs for McCain
Obama's 2008 campaign is revealed to be planning a prank on his Republican opponent John McCain. In a mail from March 2008 from consultant Paul Begala he suggests to Podesta's team that they deploy a "guy in a Bush mask" to every John McCain event carrying a sign reading "John, Give Me a Hug!", or he could shout "Hey, John, give me a hug!"
"The cost is minimal – how much does a rubber Bush mask cost? All we'd need is a volunteer who would be willing to wear a blue suit, blue shirt, red tie – and a Bush mask," Begala says, with ambition to eventually increase the prank to "a chorus of Bushes begging for hugs."
Susan McCue, then-CEO of ONE, an advocacy campaign to reduce extreme global poverty, suggests that college Democrats would be willing to do the job.
You can share this story on social media: