New Yorker becomes 10th woman to accuse Trump of groping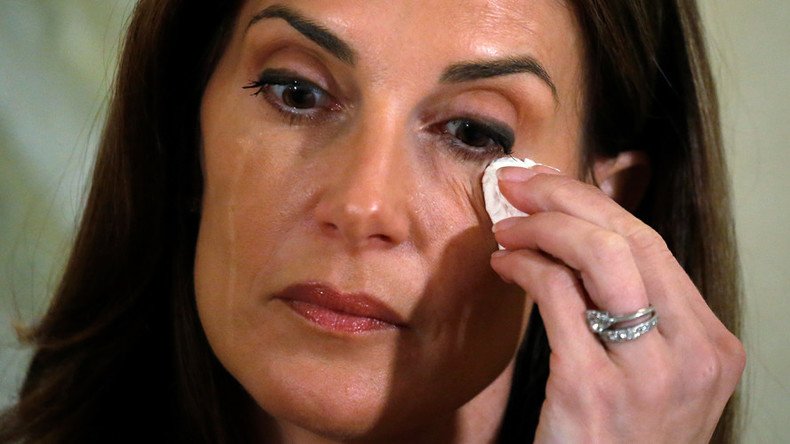 A New York "wellness expert" has accused the GOP presidential nominee of groping her outside a tennis stadium in 1998. She is the 10th woman to make a claim of harassment since a tape of Trump's 2005 comments to a TV producer was made public.
Karena Virginia, a self-described "lifestyle guru, wellness expert and TV personality," teared up as she accused Donald Trump of inappropriately touching her outside the Arthur Ashe Stadium in Queens, New York, during the US Open tennis tournament in 1998.
She overheard Trump and several other men commenting on her appearance, and then Trump "walked up to me, reached [out] his right arm, grabbed my right arm, and then his hand touched the right inside of my breast," Virginia told reporters on Thursday.
"I was in shock; I flinched," Virginia said. "I felt intimidated and I felt powerless."
Trump had told her, "Don't you know who I am," Virginia said, adding, "He should be ashamed not only of his words but of his behavior toward so many women."
"Mr. Trump, perhaps you do not remember me or what you did to me so many years ago," Virginia said, crying. "But I can assure you that I remember you and what you did to me as though it was yesterday. Your random moment of sexual pleasure came at my expense and affected me greatly."
READ MORE: 'Grab them by the p***y': Leaked audio of Trump causes GOP backlash
Virginia is the 10th woman to come forward with accusations that they were sexually harassed by Trump since October 7, when a 2005 recording of Trump making off-color remarks to TV show host Billy Bush was made public by NBC News.
Most of the accusers are represented by Gloria Allred, a feminist attorney famous for litigating sexual harassment cases. Allred is also a lifelong Democrat and was a Hillary Clinton delegate at the 2016 Democratic National Convention in Philadelphia, Pennsylvania.
Reacting to the accusations on Thursday afternoon, the Trump campaign slammed Allred as a "discredited political operative" and the charges as "another coordinated, publicity seeking attack with the Clinton campaign."
"Give me a break," wrote Jessica Ditto, the campaign's deputy communications director. "Voters are tired of these circus-like antics and reject these fictional stories and the clear efforts to benefit Hillary Clinton."
You can share this story on social media: