New DNC leak: Campaign bus illegally dumps raw sewage on Georgia street (PHOTOS)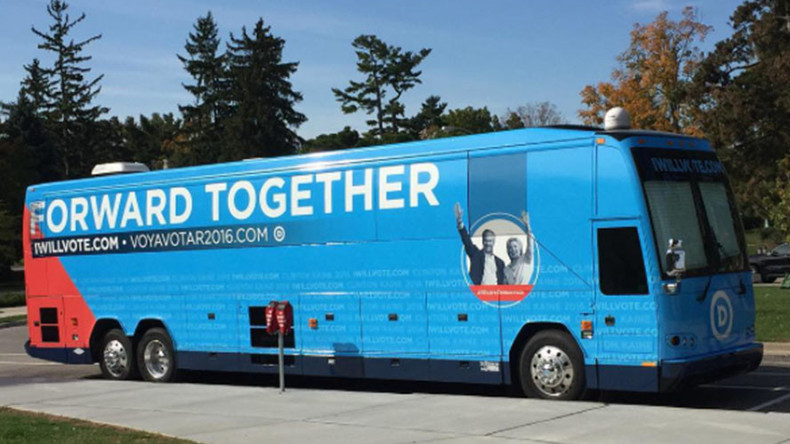 A campaign bus for the Democratic National Committee has been photographed illegally dumping raw sewage into a storm drain in Lawrenceville, Georgia. Local authorities are working to ensure the local water supply is not contaminated by the human waste.
"It's wrong. I don't care whose name is on the bus," said Mike Robbins, a manager of an auto-parts store located near the drain in Lawrenceville, according to Fox5. Robbins provided images of the bus that had a picture of Hillary Clinton and Tim Kaine on it, along with a "Forward Together" slogan.
A police report obtained by Fox5 said the bus pulled up and someone got out and opened the drain, leaving behind a large amount of "drying toilet paper" and a "foul smell." Hazmat crews were given the job of cleaning up after the DNC.
The illegal dumping took place beside the Gwinnett County Board of Registrations and Elections Office, where early voting in the presidential election was taking place.
In a statement, the DNC put the blame onto the "chartered bus company" they were using, claiming it was an "honest mistake" and that actions have been taken to prevent it from happening again, adding that the bus driver made the decision to dump the waste out of safety concerns, as he was concerned that the waste leaking from the bus's sewage tank could put other cars at risk.
Police told Fox5 that whoever opened the sewage drain could be charged with illegal dumping.