Trump slams Clinton's 'animals' for N. Carolina office firebombing & swastika vandalism (PHOTOS)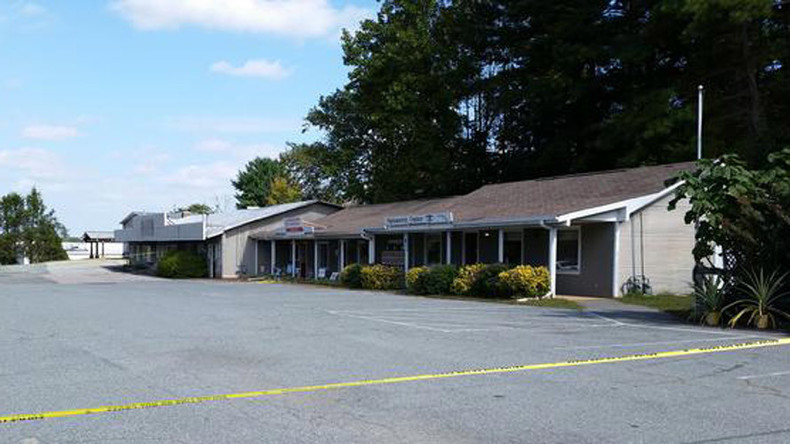 Police are investigating an arson attack on the Orange County GOP headquarters in North Carolina, which destroyed part of the interior and saw a swastika painted on the building. Donald Trump has pinned the attack on "animals" from the Democratic camp.
The incident in the town of Hillsborough, North Carolina, occurred between Saturday night and the early hours of Sunday.
Local government officials say a bottle filled with a flammable substance was thrown through the window and set alight, destroying furniture and causing damage to the inside.
A threatening message reading: "Nazi Republicans leave town or Else" was also found spray-painted in black alongside a swastika on the side of an adjacent building.
There have been no reports of any injuries and the estimated cost of the damage has not yet been determined.
Dallas Woodhouse, executive director for party in North Carolina, has labeled the incident a "hate-filled and violent attack against our democracy."
In a statement seen by CBS North Carolina, Woodhouse confirmed the party would be requesting "additional security" as the presidential election on November 8 approaches.
Democratic presidential candidate Hillary Clinton condemned the attack in a tweet on Sunday.
Images from the scene show charred couches inside the building and melted Trump-Pence posters.
Hillsborough mayor Tom Stevens labeled the incident a "reprehensible act".
"This highly disturbing act goes far beyond vandalizing property; it willfully threatens our community's safety… and its hateful message undermines decency, respect and integrity in civic participation," Stevens said.
"I believe I speak for the overwhelming majority of people who make Hillsborough their home: Acts like this have no place in our community," he added.
You can share this story on social media: