'It will be a bloodbath': 3 'militia' men charged with WMD conspiracy, threatening Somali refugees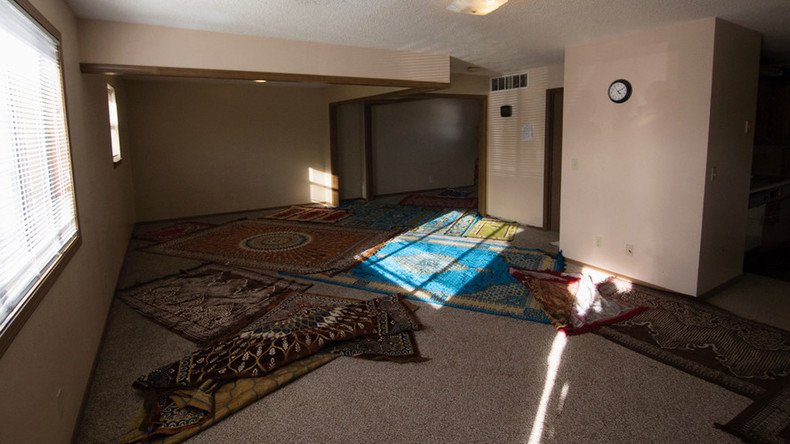 Three members of the Kansas Security Force and the Crusaders stand accused of planning to bomb some 120 Somali Muslim refugees living in an apartment complex adjacent to a mosque, according to the Department of Justice.
The acting US attorney for the District of Kansas, Tom Beall, announced on Friday that Curtis Allen, 49, Patrick Stein, 47, and Gavin Wright, 49, would be charged for planning an attack scheduled for November 9, just one day after the presidential election. A bombing was to take place at a Muslim community center in Garden City, Kansas.
Beall said the men stashed away a large amount of firearms and ammunition, according to KWCH.
Their plan included parking vehicles at each of the four corners of the apartment complex.
Stein was quoted from a recorded June 2016 phone call as saying, "The only f***ing way this country's ever going to get turned around is it will be a bloodbath and it will be a nasty, messy motherf***er. Unless a lot more people in this country wake up and smell the f***ing coffee and decide they want this country back ... we might be too late, if they do wake up ... I think we can get it done. But it ain't going to be nothing nice about it," according to the criminal complaint affidavit provided by KAKE.
Since February, the FBI has conducted a domestic terrorism probe into the overlapping "militia groups" Kansas Security Force and the Crusaders, "whose members support and espouse sovereign citizen, anti-government, anti-Muslim, and anti-immigrant extremist beliefs," according to the affidavit.
The eight-month long investigation ended with arrests Friday. All three men are currently being held at Sedgwick County jail on one count of conspiring to use a weapon of mass destruction. A conviction could mean a life sentence behind bars. They make their first court appearance Monday.
READ MORE: US intervention the reason for homegrown terrorism – FBI study
The FBI had a paid informant, referred to as the Confidential Human Source (CHS) in the affidavit. That person "attended numerous KSF and Crusaders meetings where plans were discussed to carry out a violent attack against Muslims (whom the group members refer to as 'cockroaches') in southwestern Kansas," the court document read.
Stein met with the FBI's informant Wednesday in rural Finney County, where FBI-provided automatic weapons from the agency's lab in Quantico, Virginia, according to KAKE. Stein also reportedly told the source that Allen had been arrested the day prior for a domestic violence incident and that Stein feared Allen's girlfriend would drop a dime on them to local police.
You can share this story on social media: