Two more women claim Trump inappropriately touched them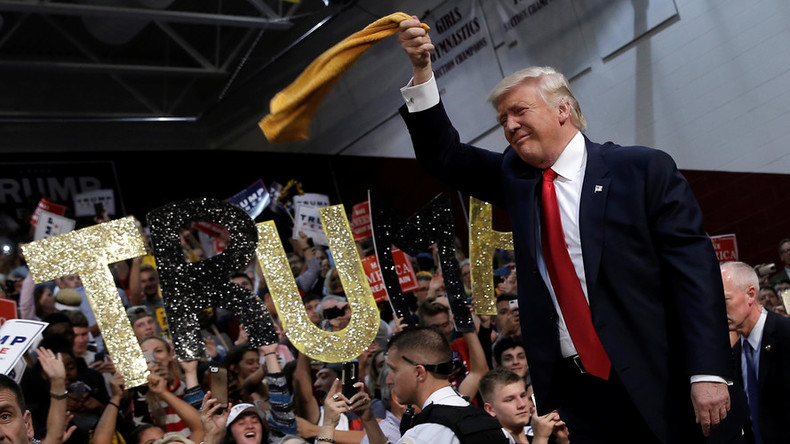 Summer Zervos is the latest woman to allege Republican presidential nominee Donald Trump was sexually inappropriate with her. Zervos appeared on the fifth season of The Apprentice and claims to have remained in contact with Trump after the show ended.
During a press conference with attorney Gloria Allred, Zervos detailed the alleged harassment she received at the hands of Trump when she met with him to discuss working together. She claims that in 2007, she and Trump met in California where he proceeded to make unwanted sexual advances on her.
"I had the utmost admiration for Trump," Zervos explained at the Friday press conference, "even after I was fired, I continued to see him as a possible mentor and a potential employer."
The two remained in contact after she left the show. In 2007, she was visiting New York City and contacted Trump to meet with her for lunch. He was unavailable for the lunch meeting, but instead invited her to his office where she claims he greeted her by kissing her on the lips.
"I was surprised, but I thought that perhaps that was just his form of greeting," she said.
Zervos went on to say that Trump told her he would love to have her work for him and would contact her when he was in Los Angeles next. She said that she was eager to work with Trump, but as she was about to leave he kissed her on the lips again and asked her for her phone number, which she provided.
Afterwards, she contacted both friends and family about the kisses to see if they shared her feelings that the gesture was inappropriate. However, they came to the consensus that Trump probably meant the gesture as a greeting.
The two stayed in contact and Trump called her when she returned to California, referring to her as "his 'OC angel,'" Zervos said. Days later, he told her that he was coming to Los Angeles, and the two made plans to meet at his hotel in Beverly Hills where they were to have dinner.
A security guard met her in the lobby and rather than taking her to the restaurant as she expected, escorted her to Trump's bungalow. Trump greeted her in his living room where he aggressively kissed her and grabbed her breast, despite her trying to push him away.
She claimed that she tried to move to another part of the room, but Trump grabbed her hand and led her into the bedroom. He told her to sit down and watch some "telly-telly" with him, but she pushed his chest and told him to "get real." He mimicked the words back while thrusting his genitals. He asked her what she wanted and she replied that she had come to have dinner.
She said that he told her he thought she "didn't know love or had ever been in love." Then, the two allegedly shared a club sandwich while he treated their interactions like a job interview and gave her advice on her home mortgage.
He abruptly ended their conversation, telling her that he was tired but invited her to join him at his golf course in Palos Verdes. She initially decided that Trump's sexual behaviors were "some kind of test" and hoped she could still get a job.
She was offered a job at the Trump Organization's golf course, but at half the salary she had asked for. When she contacted Trump about it, he told her that his business was not doing well and they were laying off thousands of people. He also told her to stop calling his private phone number.
Donald Trump's campaign has reached out to a man identified as Summer Zervos' first cousin, John Barry of Mission Viejo, California. In a statement posted on the Trump campaign website, Barry said he was "completely shocked and bewildered" by Zervos' press conference, adding, "Ever since she was on The Apprentice she has had nothing but glowing things to say about Mr. Trump."
He said that Zervos, who was eliminated in the first round of the Apprentice Season 5, "would also talk about how kind and caring Mr. Trump was on the show, and how he would even visit children in hospitals without telling the press."
Barry blamed her allegations on Trump declining to visit her restaurant during the primaries and accused her of just trying to generate public attention for herself.
"Summer wishes she could still be on reality TV, and in an effort to get that back she's saying all of these negative things about Mr. Trump," Barry said. "Summer's actions today are nothing more than an attempt to regain the spotlight at Mr. Trump's expense."
Trump also has denied the accusations, saying in a statement, "I vaguely remember Ms. Zervos as one of the many contestants on The Apprentice over the years. To be clear, I never met her at a hotel or greeted her inappropriately a decade ago."
He also claimed that she continued to contact him, saying that Zervos had emailed his office in April, "asking that I visit her restaurant in California."
He blamed the media for "creating a theater of absurdity that threatens to tear our democratic process apart and poison the minds of the American public." He also criticized "the unethical press" for treating unfounded accusations as facts, despite holding a press conference with Juanita Broaddrick, who has accused Bill Clinton of sexual assault, shortly before the second presidential debate on Sunday.
Zervos was not the only woman on Friday to make accusations against Trump. Kristin Anderson was at a nightclub with Trump in the early 1990s when she claims that he slid his fingers under her skirt and touched her vagina while the two were seated next to each other on a couch in a crowded Manhattan club.
Friends of Anderson back up her claims, saying that she told people about it shortly after it happened. When she and two other friends heard the story, they found themselves "laughing at how pathetic it was" on Trump's part, the Washington Post reported.
"It wasn't a sexual come-on. I don't know why he did it. It was like just to prove that he could do it and nothing would happen," Anderson told the Post. "There was zero conversation. We didn't even really look at each other. It was very random, very nonchalant on his part."
Trump's campaign accuses Anderson of lying. In a statement, Trump spokeswoman Hope Hicks wrote, "Mr. Trump strongly denies this phony allegation by someone looking to get some free publicity. It is totally ridiculous."
Another accuser, Jessica Leeds, who had her allegations that Trump groped her on an airplane in 1980 or 1981 printed in the New York Times earlier this week, the Trump campaign issued a statement from an alleged witness.
Anthony Gilberthorpe, who claimed to be in the presence of Leeds and Trump the whole flight, said in the statement, "I have only met this accuser once and frankly cannot imagine why she is seeking to make out that Trump made sexual advances on her. Not only did he not do so (and I was present at all times) but it was she that was the one being flirtatious."
He also went on to call her "shrill" and said "she wanted to marry [Trump]."
Gilberthorpe is no stranger to the news. In 2014, he told the Mirror that as a 17-year-old, he "supplied underage rent boys for Margaret Thatcher's cabinet ministers." Gilberthorpe was also accused of setting up his former boss, Tory MP Piers Merchant, for a tabloid sting for £25,000 ($30,465) in 1997 by filming Merchant having sex with a 17-year-old, according to the Guardian.
Women who have spoken out against Trump have received backlash from Trump supporters on social media, but earlier this week, Mindy McGillivray, who told the Palm Beach Post that Trump groped her in 2003, is now looking to leave her home amid fears for her family's safety.
She said that she was in her home Thursday night when she looked out the window and saw "cars just driving around the house and looking, slowing down right at the house," according to the Palm Beach Post.
"I don't live in a gated community. This is dangerous. There could be people out there who want to hurt us," she said. "We feel the backlash of the Trump supporters. It scares us. It intimidates us. We are in fear of our lives."
She also addressed her critics, saying, "Why wouldn't you believe me? Because I have been bad in my past? I told you who I was, there's nothing to hide here. I'm the mother of a 15-year-old daughter, I've had arrests in the past, I've got secrets, I've got skeletons. No, I don't want that to be heard but it had to be heard."
The photographer, Ken Davidoff, who was with McGillivray when the alleged incident occurred has corroborated her story, saying he remembered her pulling him aside after the alleged groping to tell him. However, this has caused friction within Davidoff's family as well.
Davidoff told the Palm Beach Post that his brother Daryl has been contacted by a Trump attorney and said in a text message, "I agreed to make a statement, hope they put both of you away."