Clinton's lead over Trump grows after P*ssy-gate, 2nd presidential debate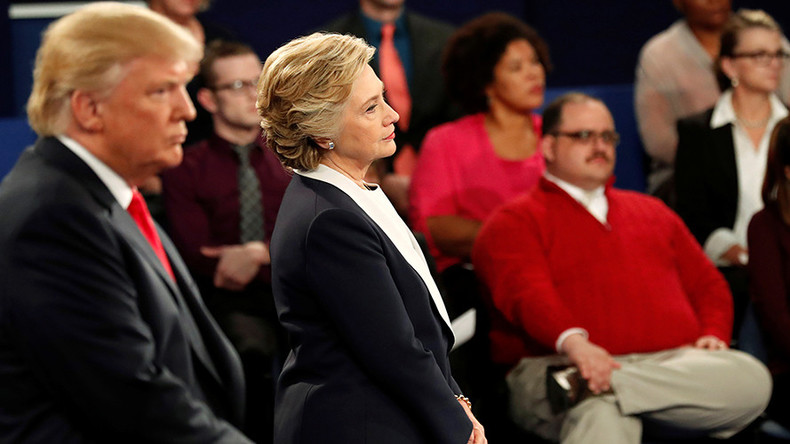 The first sets of polls that took into account both leaked audio of crude comments by GOP presidential nominee Donald Trump and his second debate with Democratic rival Hillary Clinton have come out, and things are not looking good for the Republican.
Clinton holds an 8-point lead over Trump, with 45 percent of likely voters preferring her, compared to 37 percent opting for him, according to a Reuters/Ipsos poll. Clinton's lead is up by 3 percentage points from last week. Her lead is even bigger in a different poll: A NBC News/Wall Street Journal survey found that, in a four-way matchup, Clinton leads Trump 46 percent to 37 percent. Her lead jumps to 10 points in a two-horse race, with Clinton receiving support from 50 percent of likely voters.
The news gets worse for Trump, Reuters found. His leaked "locker room talk" from 2005, in which he was caught on tape telling then-'Access Hollywood' co-host Billy Bush that his fame and fortune let him do anything he wants to women ‒ including "grab them by the p*ssy" ‒ became an instant turn-off for many Republicans, with nearly one in five (19 percent) saying his vulgar comments about sexual assault disqualified him from the presidency.
While 61 percent of those polled said that "lots of men" engage in similar conversations, most of respondents said Trump is sexist.
The good news for Trump is that he isn't polling any worse with women than he has over the last 12 months. That's not saying much, however, as only 29 percent of women polled by Reuters said they will vote for Trump, with 44 percent choosing Clinton.
One poll, by the Public Religion Research Institute on behalf of the Atlantic, showed a massive gender divide, with Trump leading Clinton with men by 11 percentage points, but Clinton winning with women by 33 points.
"To put those numbers in perspective," FiveThirtyEight's Nate Silver wrote, "that's saying Trump would defeat Clinton among men by a margin similar to Dwight D. Eisenhower's landslide victory over Adlai Stevenson in 1952, while Clinton would defeat Trump among women by a margin similar to … actually, there's no good comparison."
To get to Clinton's current lead, Silver noted, you'd have to add Eisenhower's 11-point win to President Lyndon B. Johnson's 23-point win over Senator Barry Goldwater (R-Arizona) in 1964.
Sunday's second presidential debate did have a minor positive impact on voters' views of Trump, the NBC/WSJ poll found. The survey took place October 8-10, and those people questioned after the debate gave Clinton only a 7-point lead over Trump, regardless of whether it was head-to-head or a four-way matchup. Trump was able to increase his support among Republican voters after Sunday as well, with 83 percent of likely GOP voters saying after the debate that their party's House and Senate candidates should back Trump, compared to 67 percent before the faceoff.
Conservative-leaning polling firm Rasmussen found that Trump was able to gain on Clinton after the debate, with 43 percent of likely voters supporting the Democrat and 39 percent choosing the Republican in a four-way race. Clinton had a 7-point lead in the previous poll.
Only one poll, a daily one from USC Dornsife/Los Angeles Times, finds that the race is too close to call, with Clinton and Trump statistically tied. Clinton leads 44.4 percent to 44.0 percent. That survey is formulated differently from most polls, however, by asking the same people "to estimate, on a scale of 0 to 100, how likely they are to vote for each of the two major candidates or for some other candidate." It also asks how likely they are to vote on that 0-100 scale.