Trump misled public about income ‒ records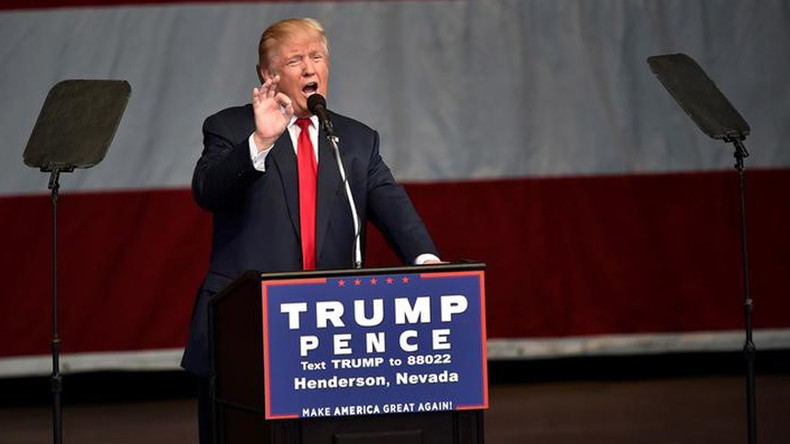 New records show that Republican presidential nominee Donald Trump misled the public when he claimed he made $694 million last year. Trump's claims about his wealth, success and finances have been crucial to his voter appeal during his campaign.
During the first debate, Trump said that he made $694 million last year, and that his disclosure forms filed with the Federal Election Commission would reveal everything that voters needed to know about his income. The disclosure forms require federal candidates to state rough approximations of their incomes, assets and liabilities.
According to Trump, he collected $296 million in "golf-related revenue" last year, which made up 42 percent of the $694 million he claimed. His two Scottish golf courses are listed as earning him a combined $23 million in "golf-related revenue" last year, with Turnberry pulling in $18.1 million and Aberdeen making $4.8 million. The FEC figures don't take into account the costs of running his courses and resorts.
Under UK and Irish laws, however, corporations must file public reports listing revenue, expenses and profit. According to the public records ‒ obtained by Mother Jones who first reported the story ‒ when interest, depreciation and currency exchanges are considered, Trump's golf courses show losses.
"Trump's Turnberry course lost over $2 million in 2015… Trump's Aberdeen course lost about $1.6 million," according to Mother Jones.
Mother Jones argued that, if these courses are representative of Trump's overall finances "$23 million in golf related revenue is really a $3 million loss," and his $296 million in golf related revenue "might be highly overstated."
"The $694 million isn't what Trump pocketed at the end of the day; it's how much cash his various companies brought in before they had to cover expenses," according to Mother Jones.
To date, Trump has refused to release his tax returns while he is facing an audit from the Internal Revenue Service (IRS).
"I pay hundreds of millions of dollars in taxes, but, as soon as my routine audit is finished I'll release my returns," he said according to the New York Times. "I'll be very proud to."
Trump has been under fire since it was revealed by the New York Times that he used a nearly $1 billion loss to his advantage to avoid paying federal income taxes.
Voters in recent polls have shown interest in Trump's taxes. A CBS News/New York Times poll last month showed that 59 percent of respondents said it was necessary for him to release his tax returns.
Trump called out billionaire Warren Buffett, chairman and chief executive officer of Berkshire Hathaway, for taking "a massive deduction," in the second presidential debate. Buffet fired back, saying he has paid federal income tax every year since 1944, when he was 13 (and owed a whopping $7) and released detailed information about his taxes.