Twitter drops Geofeedia over claims it helped police spy on protesters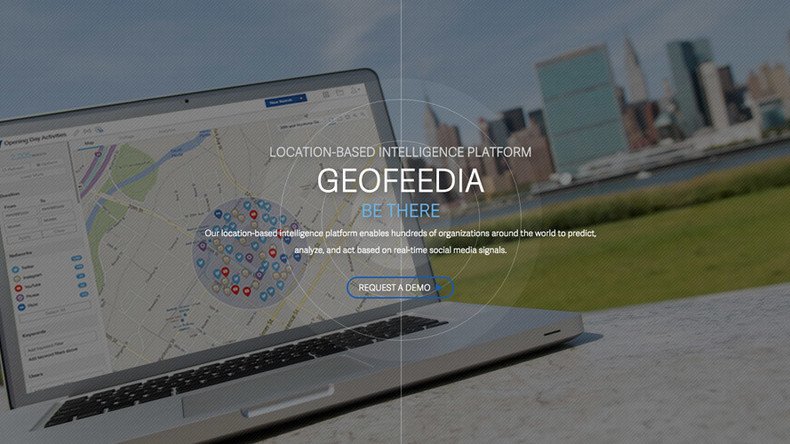 Geofeedia will no longer have access to Twitter's user data, which the Chicago-based startup used to help law enforcement track protesters in Ferguson and Baltimore, according to the ACLU. Facebook and Instagram have already severed ties with the company.
Accusations against Geofeedia first surfaced in September, when the American Civil Liberties Union of Northern California discovered that at least 13 law enforcement agencies in the state have used Geofeedia tools to keep tabs on protesters. Police in San Jose, California used the tools to monitor South Asian, Muslim and Sikh activists, the ACLU found.
On Tuesday morning, Twitter announced it was suspending Geofeedia's commercial access to Twitter data, citing ACLU's report.
Based on information in the @ACLU's report, we are immediately suspending @Geofeedia's commercial access to Twitter data.

— Policy (@policy) October 11, 2016
It is unclear how many law enforcement agencies across the US have used the company's software. Geofeedia has boasted of over 500 customers – including media, corporations, marketing firms and public sector organizations. Police in Baltimore, Maryland; Seattle, Washington; and Dallas, Texas have used Geofeedia services, the Chicago Tribune reported, while the Los Angeles, California police applied for a grant to do so in 2014.
"The government should not have preferred access to social media speech for surveillance purposes," Matt Cagle, attorney at the ACLU of Northern California, wrote on Tuesday.
While praising Twitter's decision to join Facebook and Instagram in cutting off Geofeedia, Cagle noted that social media companies should implement a policy never to provide any data to software developers of police surveillance tools.
The California ACLU, the Center for Media Justice and Color of Change sent letters to all three social media giants, urging them to deny access to developers with law enforcement clients who "allow their product to be used for surveillance, including the monitoring of information about the political, religious, social views, racial background, locations, associations or activities of any individual or group of individuals," the organizations announced.
They also demand of social media companies to adopt "clear, public, and transparent policies to prohibit developers from exploiting user data for surveillance purposes." Human and computer auditing mechanisms should be put in place to "effectively identify potential violations" and "take swift action" if it happens, the groups added.
Geofeedia was only one of the three companies named in the ACLU report that provide social media surveillance tools to police. There is no word whether Twitter, Facebook or Instagram have likewise cut their ties with MediaSonar and X1 Social Discovery.
A lengthy statement from Geofeedia obtained by Joseph Cox of Vice's Motherboard was tweeted Tuesday afternoon.
"Geofeedia will continue to engage with key civil liberty stakeholders, including the ACLU, and the law enforcement community to make sure that we do everything in our power to support the security of the American people and the protection of personal freedoms," the statement concluded.
The full statement reads, "Geofeedia is a software platform that aims to provide important, real-time publicly available information to a broad range of private and public sector clients, including corporations, media and journalism groups, marketing and advertising firms, educational companies, cities, schools, sports teams, and the aviation sector. In each of these areas, Geofeedia is committed to the principles of personal privacy, transparency and both the letter and the spirit of the law when it comes to individual rights. Our platform provides some clients, including law enforcement officials across the country, with a critical tool in helping to ensure public safety while protecting civil rights and liberties. Notably, our software has from the Boston Marathon to the effects of Hurricane Matthew that we saw this past weekend - to assist millions of people affected by both manmade and natural events. Geofeedia has in place clear policies and guidelines to prevent the inappropriate use of our software; these include protections related to free speech and ensuring that end-users do not seek to inappropriately identify individuals based on race, ethnicity, religious, sexual orientation or political beliefs, among other factors. That said, we understand, given the ever-changing nature of digital technology, that we must continue to work to build on these critical protections of civil rights. Geofeedia will continue to engage with key civil liberty stakeholders, including the ACLU, and the law enforcement community to make sure that we do everything in our power to support the security of the American people and the protection of personal freedoms."
You can share this story on social media: