Friendly journos & bankers, attacks on Bernie & Trump: Part 3 of Podesta emails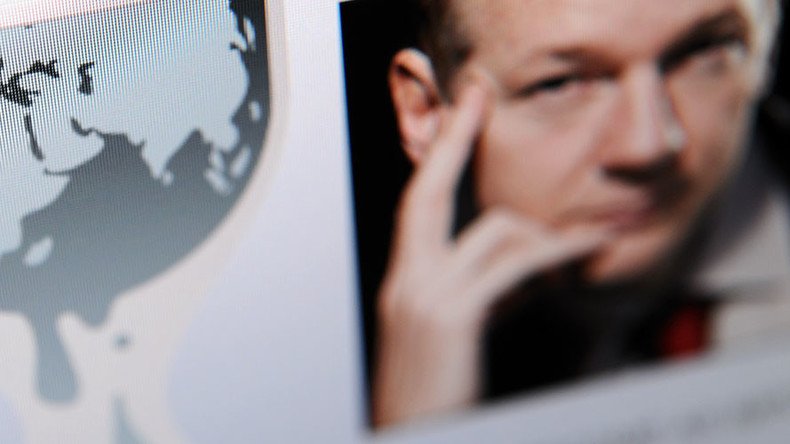 WikiLeaks has released more emails from Hillary Clinton's campaign chairman John Podesta, revealing the campaign's ties with some journalists, attack strategies against Bernie Sanders and Donald Trump, and strange comments about Catholics and Southerners.
The latest release involves as many as 1190 new emails, adding to more than 4,000 emails from Podesta already released by the whistleblowing website. WikiLeaks founder Julian Assange claims they are sitting on a trove of 50,000 messages.
One email in particular has caused debate over whether Podesta is revealing that Clinton hates everyday Americans. It appears, however, that the problem is with the phrase "everyday Americans" being included in a speech.
"I know she has begun to hate everyday Americans, but I think we should use it once the first time she says I'm running for president because you and everyday Americans need a champion." Podesta wrote to Jennifer Palmieri, Clinton's Director of Communications, in April 2015.
The emails reveal frustration from Clinton's camp over President Obama's reluctance to show support for her. Dated March 12, 2016, over a month after primaries began, Neera Tanden [President and CEO of the Center for American Progress] asks Podesta "Can Obama even hint of support of Hillary before Tuesday? Really, just a directional nod would be helpful."
"Maybe they don't want to do this, but the stakes are pretty damn high in this election for him," Tanden says. Podesta asks. "Why don't you push Valerie a little bit," possibly referring to Valerie Jarrett, Obama's senior adviser.
On Donald Trump
A July 2015 email thread discusses the Clinton campaign's strategy to address the National Council of La Raza and capitalize on Trump's remarks about some Mexican immigrants being "killers and rapists."
"Haim [Saban, owner of Univision and major Democratic donor] thinks we are under reacting to Trump/Hispanics. Thinks we can get something by standing up for Latinos or attacking R's for not condemning," Podesta wrote.
"Haim is right - we should be jamming this all the time," Palmieri replied.
On February 26, 2016, Podesta received a message from his former co-worker at the Clinton White House, Erskine Bowles, recommending an anti-Trump article written by Benn Steil and Max Boot in the conservative Weekly Standard. The piece argues that a Trump presidency "would undermine the liberal international order which the United States painstakingly constructed and cultivated after the Second World War," Steil wrote in a message to Bowles, adding, "I hope you find the piece of interest."
Three days later, Podesta received a memo from Democracy Corps, a left-leaning political consultancy, titled 'The GOP Civil War & Its Opportunities.' The group's survey of survey of Republican voters "shows the GOP is headed towards a train-wreck that will change our politics."
Democrats have a chance to exploit "a huge crack that runs right down the middle of the GOP separating the Tea Party and Evangelical voters (47 percent) from the Moderates and Observant Catholics (45 percent)," said the memo. To appeal to the latter group, the Democrats need to attack Trump as an "ego-maniac that is for himself, not the country," who is "disrespectful of women" and "intolerant towards immigrants" and "can't be trusted with nuclear weapons," said the memo, sent to Podesta's Georgetown Law School email address.
'Cultivating' Business Insider
Podesta emailed Clinton's Director of Communications Jennifer M Palmieri about the news website Business Insider, in an attempt to confirm Clinton's attendance at an event on April 12, 2015, the day she announced her run for president. They both referred to the publication as being right wing.
"Am I right that they're right wing? They get a fair amount of traffic," Podesta asked. "They are right wing, but Philippe [Reines, Clinton's former State Department aide] weirdly has cultivated them," Palmieri replied.
On Bernie Sanders
On September 24, 2015, Nikki Budzinski, Clinton's labor outreach director, emailed Robby Mook about Sanders' campaign, asking National Education Association for a tele-town hall.
"Carrie flagged that Sanders is now asking for a teletown hall, which we were offered and he was not," she said. "Sander's campaign manager is all over Carrie. I told Carrie this is Sanders strategy, delay, delay and make things a mess."
The NEA recommended an endorsement of Clinton the next day, and was reportedly divided over the decision, as many supported Sanders and the union endorsed Barack Obama only after he had won the Democratic nomination.
"Is it the assumption of the campaign not to worry about Sanders?" Tanden asked Podesta in August 2015, noting, "Our trust in government research shows how much people are feeling let down by politicians, which is fueling a real antipathy to the political class. In that world, I can understand the rise of Sanders and Trump – anti-politicians to say the least."
"The assumption is that we have to beat him which we are trying to do," Podesta replied.
The October 2015 email from Tony Carkk contains a list of the Clinton campaign's "hits" on Sanders. A conversation between the campaign and the pollsters in February 2016, after Sanders won New Hampshire discusses "new possible negatives" to test in the poll, "since most of our attacks haven't been working." One of the ideas is to condemn Sanders for "socialism" and say he wants to "gut America's national security."
In February 2016, after the Sanders campaign broadcast a TV ad against fracking, the Clinton camp drafted a response painting his proposal as"extreme, unfeasible and ignores the contribution natural gas has made to our economy and our efforts to reduce carbon pollution."
Also included is an email chain from February 15, 2016 titled 'Pushback on immigration,' which shows a request for Ken Salazar, who was the US secretary of the interior from 2009 to 2013, to write an op-ed to smear Bernie Sanders'"professed support for immigration."

READ MORE: Pro-fracking insider appointed by Clinton to head presidential transition team

On Catholics
In January 2009, Podesta received an email with the news that Eric McFadden, director of the Office of Faith-Based Initiatives for the governor of Ohio, was arrested on prostitution charges. McFadden had served as Clinton's head of Catholic outreach during the 2007-2008 primary campaign. He later pleaded guilty to two incidents of trying to pimp a 17-year-old prostitute.
Podesta chaired the Center for American Progress – where Palmieri also worked – in April 2011, when he received an email from CAP senior fellow John Halpin bringing up the fact that "Many of the most powerful elements of the conservative movement are all Catholic (many converts)." Halpin added that "They must be attracted to the systematic thought and severely backwards gender relations and must be totally unaware of Christian democracy."
"I imagine they think it is the most socially acceptable politically conservative religion. Their rich friends wouldn't understand if they became evangelicals," replied Palmieri.
'I can make stuff up' and 'Confederacy' pageant
In December 2013, Bloomberg reporter Mike Dorning contacted Jake Siewert, former White House press secretary who became head of corporate communications for Goldman Sachs.
Dorning was asking about the role Podesta played during Bill Clinton's second term "push to use executive actions to further agenda."
"Guidance?" Siewert wrote to Podesta and Palmieri, attaching Dorning's inquiry. "I can make stuff up but happy to emphasize whatever you'd like. Was thinking of stressing the deep knowledge and expertise around executive power and what can be done independent of congressional action."
Podesta and Tanden had an odd exchange about the Miss America pageant on September 13, 2015.
"On another matter, do you think it's weird that of the 15 finalists in Miss America, 10 came from the 11 states of the CSA?" Podesta wrote, referring to Southern states that had seceded in 1861.
"Not at all," Tanden replied. "I would imagine the only people who watch it are from the confederacy and by now they know that so they've rigged the thing in their honor."
It should be noted that Miss America has nothing to do with Trump, who used to run the rival Miss USA pageant but sold it on September 14, 2015, the day after Podesta's exchange with Palmieri.
DNC: 'Donald Trump lies from Russia'
The previous release revealed that many advisers close to the Clintons pushed for Bill's role in his wife's presidential campaign to be reduced, as his "sex life could be damaging to her."
Clinton confirmed the authenticity of the previous release, clarifying comments exposed by the leak during Sunday's second presidential debate. Her admission to the National Multi-Housing Council in 2013 that politicians have "both a private position and a public position" was explained as being a discussion she had regarding the film 'Lincoln'.
READ MORE: 'I'm kind of far removed': Clinton admits estrangement from middle class in Wall Street paid speech
So far there has been no official response from Podesta or the Clinton campaign. However, interim chair of the Democratic National Committee Donna Brazile has accused WikiLeaks of being "postmarked from Russia" and "spreading con man Donald Trump lies."
You can share this story on social media: