Civil War cannonballs discovered in South Carolina thanks to Hurricane Matthew
Published time: 11 Oct, 2016 04:16
Edited time: 12 Oct, 2016 12:23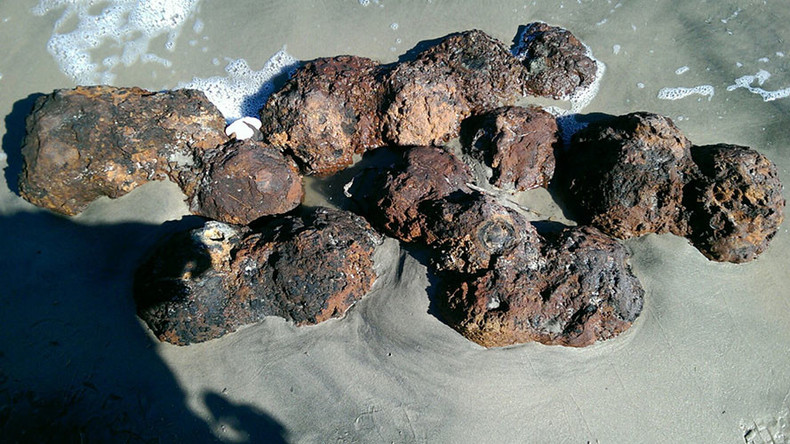 As Hurricane Matthew waged a war of destruction in South Carolina, it ended up resulting in a surprising discovery: The extreme weather unearthed Civil War-era cannonballs on Charleston's Folly Beach.
CCSO Bomb Team evaluating the discovery of an old civil war ordnance on Folly Beach #chsnews

— ChasCoSheriff (@ChasCoSheriff) October 9, 2016
WCSC reports that former Folly Beach mayor Richard Beck discovered the 16 cannonballs as he was walking along the beach.
"I knew they were cannonballs," he said. "One of them had a very distinct hole in it that went directly into it. Just knowing a little bit about the Civil War, I know that they put fuses in cannonballs for them to explode when they desired them to."
UPDATE: Folly Beach ordnance detonation successfully completed. Small amount will be transported to Navy Base #chsnews

— ChasCoSheriff (@ChasCoSheriff) October 10, 2016
Although the cannonballs had eroded somewhat after being under the sea for so long, Andrew Gilreath, Director of Public Safety, told CNN, "you can see the fuse holes in the balls."
The ammunition, known as "spherical shells" rather than cannonballs when they have a fuse hole, had largely fused together with rust.
READ MORE: Hurricane Matthew kills 27 in US, millions without power (PHOTOS, VIDEOS)

A bomb squad was called in to detonate the ancient munitions, but were unable to access them at first, due to a high tide.
The US Air Force's Explosive Ordinance Team arrived to assist the Charleston County Sheriff's bomb squad and Fire Department in assessing the ammunition. Residents were warned they may hear a loud explosion.
Locals reported hearing at least two loud booms and saw smoke in the area Sunday night.
A few ordnances were transported to the local Navy base in order to be examined fully.
Folly Beach Island was occupied by federal troops during the Civil War. The area only saw small scale fighting, however.
In May 1863, Confederate forces attacked Union forces while on a fact finding mission. Union forces occupied the area in August of that year, using the base to supply fighters in the city of Charleston. It was used as a staging area during the Battles of Fort Wagner, the second battle of which was depicted in the 1989 film Glory.
John and Judy Manzi were walking on the beach on Sunday when a friend found the 16 cannonballs in the sand.
"There was a gun emplacement there during the Civil War and this must have been a stack because they were all consolidated together," they explained.