US maternal mortality rate worse than Libya, Palestine - report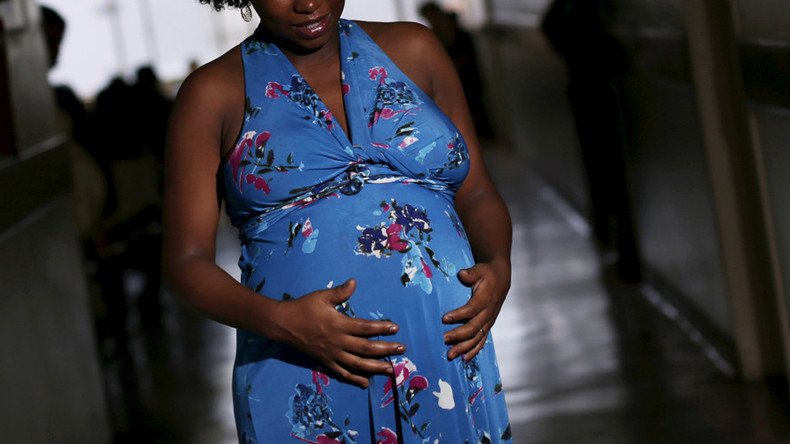 The maternal mortality rate in the United States is higher than that of Iran, Palestine, Libya, and Saudi Arabia. The rate has risen since 2000 and is higher than most "high-income locations," according to a study of health factors in 195 nations.
In 2015, the US had a maternal mortality rate (MMR) per 1,000 livebirths of 26.4, an increase from both 1990 (16.9) and 2000 (17.5), according to the Global Burden of Diseases, Injuries, and Risk Factors Study. The multi-pronged study, coordinated by the Institute for Health Metrics and Evaluation (IHME), included worldwide data on diseases, life expectancy, nutrition, and a host of other factors.
The 2015 MMR in the US was higher than that of the likes of Vietnam (15.6), Saudi Arabia (15.7), Palestine (16.2), Thailand (20), Iran (20.8), Libya (22.8), and Qatar (25.5), among many others.
Overall, the US had 1,063 maternal deaths in 2015, compared to 28 in Canada, 315 in all of western Europe, and 1,135 in all of central Europe, eastern Europe, and Central Asia, the study found. Russia had 340 deaths, down from 655 in 2000. China had 2,948 deaths, but with an MMR lower than the US, at 17.7.
The US was among the few "high-income locations" that had an MMR of more than 15, the study found.
"By the year 2015 … 49 countries had an MMR of less than 15, including Saudi Arabia, all countries in central Europe, and all high-income locations with the exception of the USA, Argentina, Brunei, Chile, and Uruguay," the report stated.
The MMR in the US was on par with nations like Kazakhstan (26.5) and Uzbekistan (26.2).
"Several other countries in North Africa and Middle East along with the USA, Armenia, Azerbaijan, Bulgaria, Chile, China, Costa Rica, Kazakhstan, Puerto Rico, Romania, Russia, Tajikistan, Thailand, Turkmenistan, Ukraine, Uruguay, Uzbekistan, and Vietnam had an MMR between 15 and 30," according to the study
Many Latin American, Caribbean, Southeast Asian, and African nations had among the highest MMRs in 2015. The Central African Republic had the highest MMR in the world, at 1074.3.
Some of the increase in America's MMR in recent years, the report said, may be due to increased, official awareness of cause of death.
The US "has high MMR for a high-SDI (Socio-demographic Index, or rates of education, fertility, and income) country—and is one of the few where it is increasing—but following the lead of Mexico and much of Latin America, it is also one of the only countries that has proactively improved its civil registration system with addition of a pregnancy checkbox on the standard death certificate," the report stated.
It added: "The USA should learn from the experiences of other countries and consider implementing regular, comprehensive confidential enquiries into drivers of maternal mortality."
The study said that to improve on maternal mortality rates, nations should "expand coverage and improve quality of family planning services, including access to contraception and safe abortion to address high adolescent fertility; invest in improving health system capacity, including coverage of routine reproductive health care and of more advanced obstetric care" among other suggestions.
A separate report released in September found that the state of Texas, ground zero for restrictions to sexual and reproductive health care in the US, has a maternal mortality rate that is among the highest in the industrial world.
Outside of maternal mortality rates, the study included many global health factors that had improved in the last several years, including an increased average life span by 10 years (62 to 72) since 1980 and decreases in deaths from HIV/AIDS and malaria — by 33 percent and 37 percent, respectively — since 2005.
The world has also halved the death rate of children younger than five years old, to 5.8 million per year, the study found. The top conditions that make humans sick but are not necessarily fatal include upper respiratory infections like pneumonia and diarrheal diseases, the study said.
The study included analyses of women's health and childbirth, healthy life expectancy, behavioral and environmental risks, and child mortality.
"Development drives, but does not determine health,"said Dr. Christopher Murray, director of IHME at the University of Washington in Seattle. "We see countries that have improved far faster than can be explained by income, education, or fertility. And we also continue to see countries – including the United States – that are far less healthy than they should be given their resources."
You can share this story on social media: