No aid with maternity or abortions: Most state laws drive families with kids to poverty - report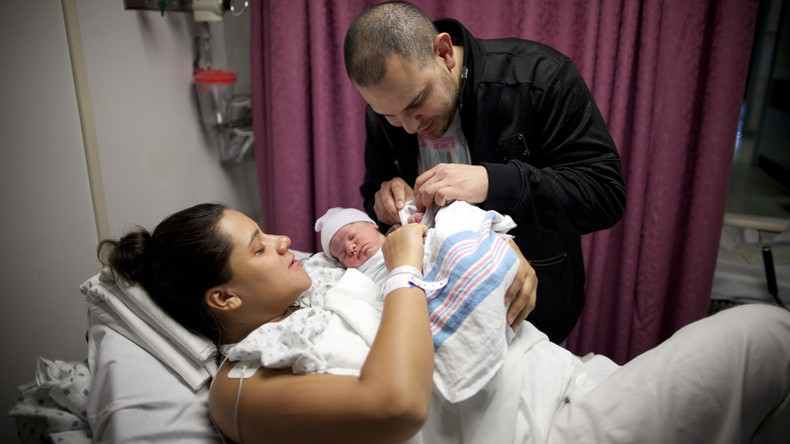 Nearly all state lawmakers not only limit women's reproductive rights to abortion but deny their residents paid family and medical leave, and paid sick days, according to new analysis. Those policies drive 13 percent of US families with a new born into poverty, which disproportionately affects women of color.
"When a woman who was denied abortion coverage cannot keep her job because her employer refuses to make reasonable accommodation for her pregnancy – no paid sick day for prenatal appointments or well-baby care – no paid family and medical leave to use after giving birth – the deck is truly stacked against her," said Debra L. Ness, President, National Partnership for Women & Families in a released statement.
The state-by-state report is issued to coincide with the 40th anniversary of the Hyde Amendment, a federal law which prevents taxpayer funding of abortions in federal health programs. The law is renewed every year by both Republican and Democratic presidents.
The report found 25 states restricted abortion coverage in plans in state health insurance marketplaces, 10 states restricted abortion coverage in all private health insurance plans, and 21 states restricted the coverage in insurance plans offered to state public employees.
The report not only looked at the economic security outcomes for women and families without access to abortion but also reviewed state laws concern family and medical leave and paid sick day.
Nearly four million infants are born in the US each year, according to the latest US Census data in 2010 but the report found that an estimated quarter of a million women, or an eighth of the new birth mothers, are denied reasonable pregnancy-related workplace accommodations each year, and many more are not asking for the accommodations they need.
The analysis found restrictions to abortion went further than limits placed by the Hyde Amendment. Few states passed laws to provide paid family and medical leave, paid sick days and strong pregnancy accommodation.
The worst states were Idaho, Michigan, Missouri and Oklahoma which had no single workplace protection for expecting and new parents beyond federal law, and all four had abortion coverage restrictions.
Nevada and Wyoming withheld abortion coverage from all women enrolled in Medicaid and failed to provide a single workplace protection beyond federal law protections.

"The well-being and economic security of families depends, in many ways, on their freedom to plan if and when to have children and on the supports they can access during pregnancy and after children are born," said Sarah Lipton-Lubet, vice president, NPWF.
The report found one in five worksites offer paid maternity leave to all workers while it is acknowledged that having a baby is the most expensive health event that families face during their childbearing years.
"It is estimated that nearly 13 percent of families with a new infant become poor within a month," stated the report.
The report also found that because of income disparities women of color were more likely to enrolled in Medicaid where the Hyde Amendment was in effect.
"More than half of the 7 million women impacted by the Hyde amendment are women of color, and state policies do not close the gap. More than half of Latinas and 70 percent of black women in a state that denies Medicaid coverage for abortion care."
The report also found that "Latino worker are 11.5 percent less likely to have access to paid sick days than their white counterparts," and "black workers are more than 7 percent less likely than white workers to have access to flexible work hours."
Two states with the most expansive protections for expecting and new parents – California and New York – also had state Medicaid coverage for abortion care, and neither state restricted abortion coverage in private insurance plans or in insurance plans offered to state public employees.
Washington, DC also had expansive workplace protections. However, it was barred by Congress from using its own funds to cover abortion care in the Medicaid program.
Discussions are underway whether to amend the Hyde amendment or make it permanent. There is also the EACH Woman Act which would restore abortion coverage to women who receive health care or insurance through the federal government and "would prohibit political interference with health insurance companies that decide to offer coverage for abortion care."
Other legislative changes include the Family and Medical Insurance Leave Act, which would create a national paid leave insurance program to allow workers to earn a portion of their pay while they take a limited amount of time away to care for newborn. The Health Families Act which establish national paid sick days, and the Pregnant Workers Fairness Act which would ensure pregnant women would have equal access to reasonable workplace accommodations.
You can share this story on social media: