Bill Clinton heckled as a 'rapist' during Hillary campaign event (VIDEO)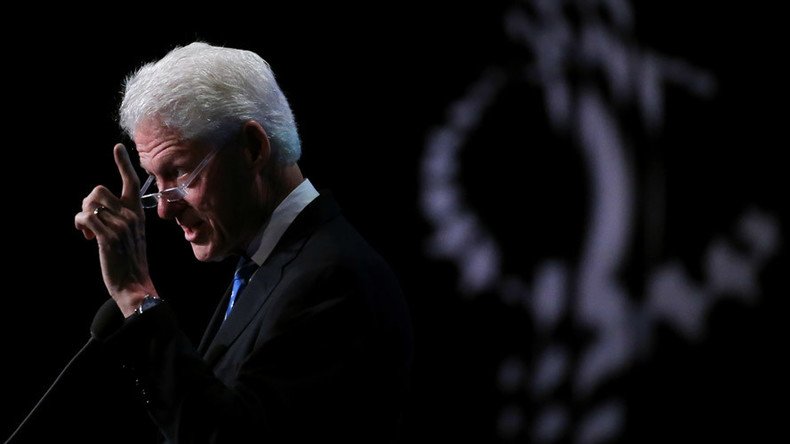 Bill Clinton was heckled by an audience member calling him a "rapist" during a campaign rally for Hillary in Milwaukee. The protest is the latest in a growing string of similar outbursts against the former US president.
Clinton was discussing the Republican Party candidate Donald Trump's controversial position on global warming during a rally on Saturday when the outburst was recorded.
Clinton opened a sentence by saying, "No one can dispute the fact," to which a protester intercepted, "That you're a rapist!" This was followed by another protester who chimed in, "Bill Clinton is a rapist!"
READ MORE: Trump-Clinton, reloaded: Candidates prep for high-stakes 2nd presidential debate

The moment was captured on Today's TMJ4 Facebook Live broadcast of the event.
Just three days prior to Saturday's outburst, another protester holding a T-shirt with the message, "Bill Clinton is a rapist" was escorted from a campaign rally in Canton, Ohio.
The wave of hecklers undertaking the "brave effort to expose the Clintons" was apparently "inspired" by Infowars, a right-wing news outlet operated by radio host Alex Jones, who's incentivizing televised protests against Clinton by offering successful hecklers up to $5,000.
The competition rules state the protesters must get Infowars' official "Bill Clinton rape" T-shirt onto US national television for at least five seconds to win $1,000 and must be heard to say "Bill Clinton is a rapist" for the $5,000 prize.
READ MORE: Top GOPers urge Trump to quit race amid tape scandal
The Today Show, MSNBC and Fox & Friends, have all been successful targets so far and there's still 30 days to go before Election Day, so who knows what the final payout could reach.
You can share this story on social media: