Federal govt spends over $1bn a year on PR – official report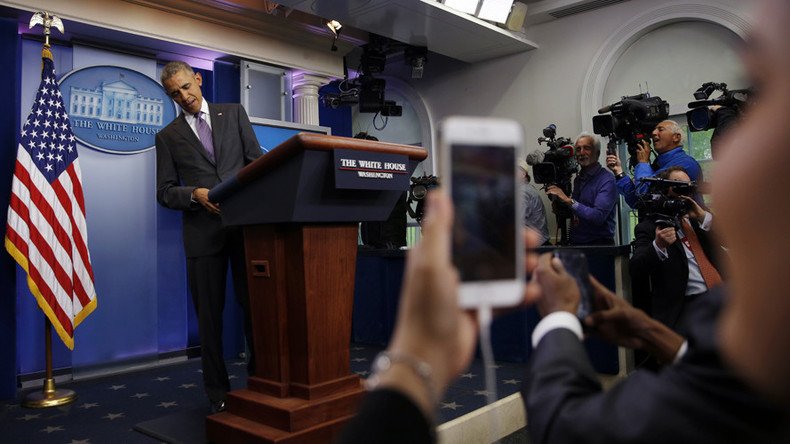 The public relations industry can be baffling and a PR staffer's job often vague, but the Obama administration doesn't seem to mind, spending a half-billion dollars a year on the services. The federal government as a whole, however, dishes out a full billion.
Public relations staffers looking for a job should send their resumes over to President Barack Obama. In 2015 alone, the federal government paid $999 million on advertising and public relations, according to a study released by the Government Accountability Office on Wednesday.
The federal government's spending on PR has increased dramatically with the rise of social media platforms such as Twitter, Instagram and Facebook. On average, the federal government has annually spent about $1 billion on PR for the past decade.
The Department of Defense is responsible for $591 million worth of contracts, which is 50 percent more than what all other agencies combined spent in 2015. These numbers only represent the minimum spending on PR teams, that which has been coded for the budget with public relations.
For example, the code for "Sign, Advertising Displays, and Identification Plates" could potentially include signage meant for the public, but can also include signs for internal agency use. In addition, when contracts are written for multiple services, the entire bill is coded for whatever service was the most expensive. Hypothetically, if the federal government hired someone to work on a PR campaign for $90,000 but they also worked on signage for $90,001, the entire $180,001 would be attributed to spending on signage.
The department that spent the highest percentage of their budget on PR was the Consumer Financial Protection Bureau, which has been trying to spread awareness about their five-year-old agency dedicated to acting as a watchdog of financial products and services.
The review was requested by Senate Budget Committee Chairman Mike Enzi (R-Wyoming).
"With increasing pressures on limited federal resources, it is crucial to know how much is spent across the federal government on public relations activities and which federal agencies are spending the most," Enzi said in a statement.
White House press secretary Josh Earnest responded to the reports, saying that President Obama "has made it a priority to interact with the public and interact with the press corps and to be as transparent as possible," the Washington Times reported.
"That is work that requires dedicated professionals who are interested in furthering that goal and helping the American people understand exactly what the administration is doing, what we have prioritized and what our success has been in implementing the agenda laid out by President Obama," Earnest added.
Given that the US's 2015 deficit was $439 billion, it stands to reason that some representatives may be interested in taking a second look at the average $90,000 salary reported for PR employees.
The agency with the lowest PR spending is the Securities and Exchange Commission, perhaps because not even the best PR person can make that agency look interesting.
You can share this story on social media: