6 US Army soldiers charged with conspiracy, stealing, selling $1mn+ of military equipment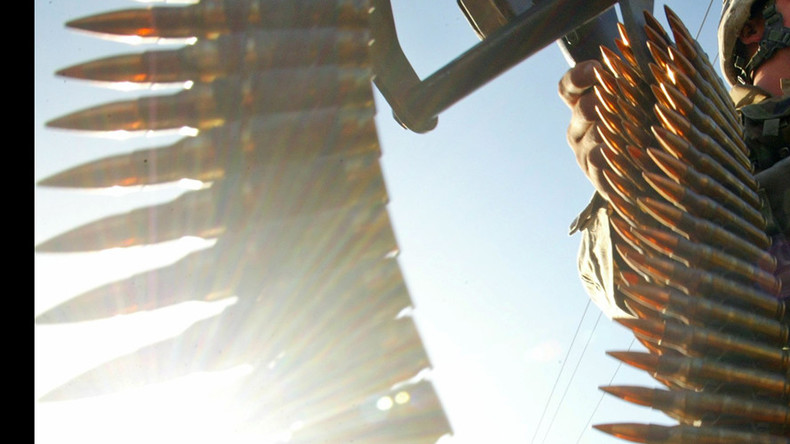 Six US Army soldiers have allegedly stolen over $1 million worth of military equipment from Fort Campbell base and sold it to buyers both in the States and abroad. They have been indicted on federal conspiracy charges, along with two civilians.
According to the indictment, soldiers Michael Barlow, Jonathan Wolford, Kyle Heade, Alexander Hollibaugh, Dustin Nelson, and Aaron Warner were stealing US Army equipment between some time in 2013 and February of 2016.
The list of items they stole from Fort Campbell included sights for the M203 grenade launcher, a trigger group for the M240 machine gun, a rail adapter for the M249 machine gun, a magazine adapter for the M249 machine gun, a barrel heat shield and barrel assembly for the M249 machine gun, and a pintle mount for the M240 or M249 machine gun.
All of them the US Department of Defense classified as "DEMIL D," meaning that they "must be destroyed and cannot be sold or conveyed."
The indictment specifically stressed that the Pentagon never sells the equipment the six soldiers sold to two individuals, who then offered them for sale on eBay. The two buyers are civilians, John Roberts and Cory Wilson, who have been indicted.
"It was part of the scheme that defendants [Roberts] and [Wilson] maintained a warehouse in Clarksville, Tennessee for the storage of US Army property that they listed for sale via eBay," US Attorney for the Middle District of Tennessee David Rivera wrote in the indictment, signed October 5.
In May 2013, Roberts exchanged messages with someone listed in his phone as an E5, a sergeant, to arrange buying helmets and tactical vests, the indictment reads."Where I just got that sh** was craaaaazy risky," the sergeant texted.
"I can only imagine," Roberts replied, according to the indictment. "I wondered about that. I imagine its pretty locked up."
It appeared that eBay tried to prevent the sale of an item that the system identified as "a component of an assault weapon," but Roberts and Wilson found a way to go around that.
"Wilson indicated that he relisted these items under a different description, and ROBERTS replied that 'eBay cops blow,'" the indictment said.
The two managed to sell over 1,600 items combined. It has been established that some of the US Army military items ended up in the hands of buyers from China, Hong Kong, Kazakhstan, Lithuania, Malaysia, Mexico, Moldova, Romania, Russia and Ukraine.
Some items, such as NVG helmet mounts, were sold to buyers located in Australia, Germany, India, Japan, the Netherlands, Spain and Switzerland.None of individuals actually underwent background checks or even asked about purposes for buying such equipment.
"These are extraordinarily and inherently dangerous in the wrong hands and outside of the military or police tactical use," US Attorney Rivera said Thursday.
READ MORE: 'Americans are on our side': Al-Nusra commander says US arming jihadists via 3rd countries
Both Roberts and Wilson have been charged with conspiracy, violating the Arms Export Control Act and wire fraud.
Soldiers Barlow, Wolford, Heade, Hollibaugh, Nelson and Warner, all Army specialists, were charged with conspiracy. Four of them - Barlow, Hollibaugh, Warner and Nelson - made their initial appearances in Judge Barbara Holmes' court, pleading not guilty.