Working-class US white males earn less than two decades ago – study
Published time: 6 Oct, 2016 22:43
Edited time: 7 Oct, 2016 14:17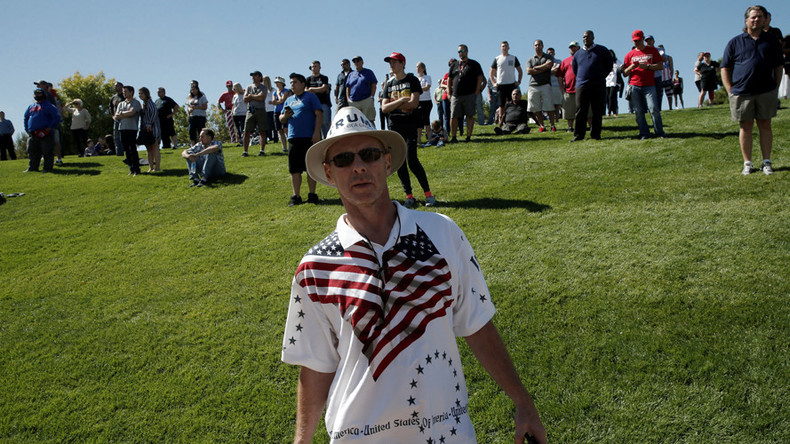 American working-class white males with only a high school diploma saw a 9 percent drop in pay in the last 18 years, a new study finds. Even some who graduated college saw their incomes fall, but depending on their age, that was not usually the case.
White men with a high school diploma in 1996 were earning $40,362, but by 2014, their salaries on average fell to $36,787, a drop of 9 percent, according to a new report from Sentier Research.
"The decline among older workers stemmed in part from people who left the labor force or shifted to part-time work, which pulled down the average income for the group," Gordon Green, co-author of the report, told CNN Money.
Meanwhile, college-educated white men saw their income soar nearly 23 percent over the same period, from $77,209 to $94,601.
The study compared salaries for white males with high school diplomas and college degrees between 1996 and 2014. Published by two former US Census Bureau officials, it was restricted to white American male citizens who were not in the armed forces.
To capture the salary trends, Sentier calculated its income estimates by dividing the total amount of wage and salary income received by members of all age groups by the overall number of people in the group, rather than wage and salary income for people working full-time, all year round.
The study first looked at the 1996 incomes earned by 10 groups of men in two-year cohorts, from 25 to 26 years of age to 43 to 44 years of age. Sentier then looked at what men earned 18 years later, when the youngest cohort were 43 to 44 and the oldest were 61 to 62.
The results varied greatly by age.
The youngest group of working-class white men, who were 25 to 26 in 1996, saw their incomes rise by 19 percent, from $32,677 to $38,803, over the 18-year period. However, their college educated peers enjoyed a 133 percent explosion in their incomes, from $40,487 to $94,252.
When it came to the oldest group, who were 43 to 44 in 1996, both working-class and college-educated white men saw their incomes fall over the period. But the working class still fared worse, suffering a 47 percent drop, from $51,491 to $27,230. Men with college diplomas, however, saw their incomes fall 28.5 percent, from $95,734 to $68,406.
READ MORE: Asians in US make up most rapidly-increasing racial group, whites slowest
The income declines among working-class white men stretch back to at least 1978, Sentier found. Those who were age 25 to 44 back then made more than they did in 1996. College-educated white men, on the other hand, saw their income grow during that period.
While working-class men saw declines, the report also shows the big income boost that comes with a college degree, Green said.
"People say it may not be worth it to go to college. These numbers show that isn't true," he said.
The study's findings support the mass appeal Republican presidential candidate Donald Trump's campaign was able to galvanize when he identified the disenfranchised white male voter and echoed their frustration, promising to end trade treaties like NAFTA and CAFTA, bring manufacturing jobs back and "make America great again."