Justice Dept. drops felony charges against American arms supplier to Libya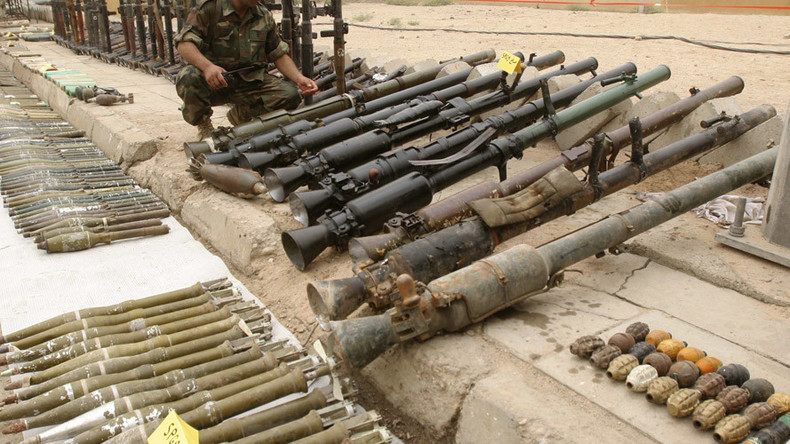 The Justice Department is dropping charges against an American arms dealer who'd been accused of selling weapons that were aimed to reach Libyan rebels 'fearing disclosure of CIA/Clinton involvement'. The trial was the same day as the presidential election.
Federal prosecutors were due to turn over discovery documents in federal court in Phoenix, Arizona earlier this week but decided instead to drop the case against arms dealer, Marc Turi.

"I am glad this horrific five-year ordeal is over and I am pleased to be able to move on with my life," Turi told Fox News. "The American public has the right to know that an injustice was committed against an innocent American."
Turi was indicted in 2014 on charges of arms dealing in violation of the Arms Export Control Act, and lying to the State Department in official applications, with prosecutors arguing that he falsely claimed the weapons were destined for Qatar and the United Arab Emirates.
At a court hearing in 2015, Jean-Jacques Cabou, a court-appointed defense counsel in the case, said emails between Clinton and her top aides indicated that efforts to arm the rebels were under discussion, at minimum, at the highest levels of the government.
Turi's defense lawyers were pressing for more documents about the alleged rebel-arming effort and for testimony from officials who worked on the issue for the State Department and the CIA. The defense said it planned to argue that Turi believed he had official permission to work on arms transfers to Libya.
The trial, due to start on the day of the presidential election, would have possibly cast more scrutiny on Hillary Clinton's private emails as secretary of state, and "to expose the Central Intelligence Agency attempts to arm rebels fighting Libyan leader Colonel Moammar Qadhafi," Politico said.
"They don't want this stuff to come out because it will look really bad for Obama and [Hillary] Clinton just before the election," an associate of Turi told Politico.
The New York Times reported in December 2012 the Obama administration secretly gave its blessing to arms shipments to Libyan rebels from Qatar in 2011 but officials later became alarmed when evidence surfaced that Qatar was turning some weapons to Islamic militants.
"During the early months of the Libyan rebellion various players motivated by politics or profit – including an American arms dealer who proposed weapons transfers in an e-mail exchange with a United States emissary later killed in Benghazi – sought to aid those trying to oust Colonel Qaddafi," reported the Times' James Risen.
Selling weapons to Libya is a direct violation of the UN arms embargo.
Under the settlement deal, Turi admits no guilt in the transactions he participated in, but he agreed to refrain from US-regulated arms dealing for four years.