Southwest flight evacuated after replacement Samsung phone catches fire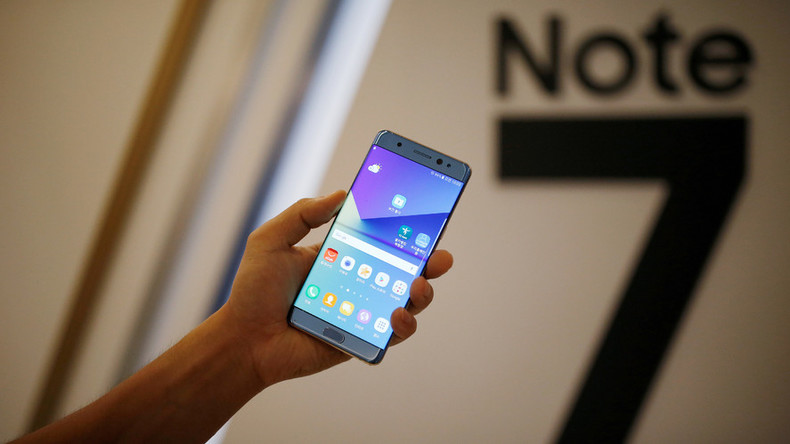 A Southwest Airlines flight from Louisville to Baltimore was evacuated Wednesday after the smartphone, issued as a replacement to one of Samsung's recalled 'exploding' phones, started smoking inside the plane before the aircraft took off.
No injuries were reported as a result of the incident and an investigation is now underway by the Consumer Product Safety Commission and the Federal Aviation Administration.
READ MORE: Don't text & fly: FAA warns against using new 'exploding' Samsung phones on board
In September the South Korean electronics company announced a global recall of at least 2.5 million of its flagship Galaxy Note 7 smartphones in 10 markets due to faulty batteries causing some phones to catch fire.
This latest incident comes just as it appeared Samsung had resolved its 'exploding phone' crisis with replacement devices issued and sales reportedly picking up.
The owner of this device, Brian Green, told The Verge he picked up the new phone at an AT&T store two weeks ago.
Green said the battery was at 80 percent capacity at the time of the incident and the phone was powered down. He also said he had used only a wireless charger since getting it.
The smoking phone came to Green's attention when he dropped it on the carpet and noticed smoke coming out of the device. It was reported that the phone burned through the carpet and also scorched the subfloor of the plane.
The phone is not affected by the recall, according to Samsung's IMEI checker and the company has not confirmed the details of the the latest incident.
"Until we are able to retrieve the device, we cannot confirm that this incident involves the new Note7," the South Korean tech giant said in a statement. "We are working with the authorities and Southwest now to recover the device and confirm the cause. Once we have examined the device we will have more information to share."
Last month the US Federal Aviation Administration (FAA) issued guidelines on the defected devices, classing them as unsafe to be turned on during flights. Some airlines issued their own restrictions.
READ MORE: FAA officially bans 'exploding' Samsung phones on flights
The Galaxy Note 7 retails at US$864 or £739. The global recall is estimated to have cost the South Korean tech giant more than $1 billion. The company has sold shares in four companies in a bid to recover some of the recall cost.