Don't text & fly: FAA warns against using new 'exploding' Samsung phones on board
Published time: 9 Sep, 2016 06:30
Edited time: 10 Sep, 2016 13:55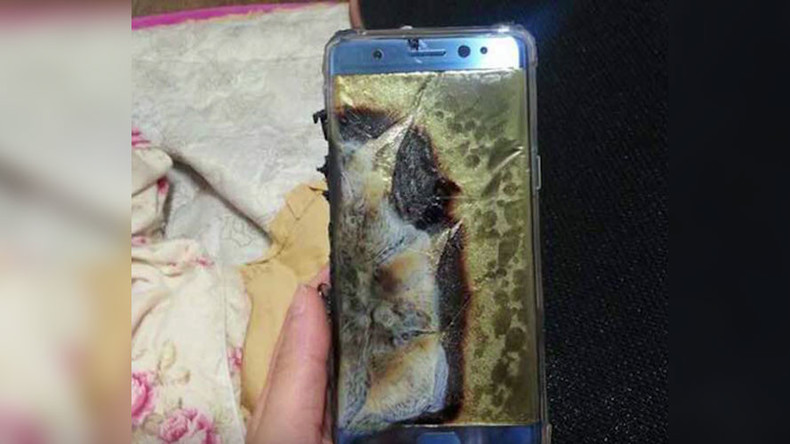 New reports of battery explosions have led to several airlines banning Samsung's flagship smartphone, Galaxy Note 7, which is already on recall. Meanwhile, the US Federal Aviation Administration (FAA) has advised not to use or stow the phone on planes at all.
READ MORE: Samsung withdraws flagship Galaxy Note 7 over exploding battery risk
In a statement published Thursday, the FAA "strongly advises passengers not to turn on or charge these [Galaxy Note 7] devices on board aircraft" and not to stow them in baggage.
Washington-based trade group Airlines for America said it was "closely monitoring any developments as this issue evolves."

"Each individual carrier makes determinations, in compliance with FAA safety rules and regulations, as to what is permitted to be carried on board and in the cargo hold," Reuters quoted Vaughn Jennings, a spokesman for the group, as saying.

The FAA's statement does not, however, oblige US airlines to ban the phone.

Meanwhile, Australian airlines Quantas, Jetstar and Virgin Australia have banned customers from charging or using the Galaxy Note 7 on flights. Passengers are still allowed to bring their phones on board and transport them in baggage.
The measures come amid the worldwide recall by the manufacturer, and several new cases of the Galaxy Note 7 battery fires and explosions reported.
The phone reportedly exploded in Winthrop, Massachusetts on Sunday. A worker for Action Ambulance Service was sleeping next to his charging smartphone, when the latter went off. The smoke from the destroyed phone reportedly set off fire alarms.
"If that exploded while he was on it, he definitely would've gotten hurt, serious burns or whatever," CBS Boston quotes paramedic Dana Rhoades.
The first case of the Galaxy Note 7 battery explosion in Australia was reported by Reddit user Crushader (Tham Hua) on Monday. Hua was visiting Perth on a business trip, and the phone's batter blasted while being charged in a hotel room. The owner was not harmed, while the smartphone got charred, and the hotel room sustained damage. The explosion caused more than $1,800 AUD damage. Samsung reportedly acknowledged the incident, gave their customer a replacement phone and took care of the damages bill.
In St. Petersburg, Florida, a Jeep was reportedly set ablaze by a charging Galaxy Note 7 on Monday. No one was harmed in the incident, but the vehicle was completely destroyed, Fox 13 reports. Samsung has reportedly confirmed the case and is taking part in investigation. While not specified, the incident caused arguably the most significant damage up to date.
Tech giant Samsung announced last Friday a worldwide recall of its flagship smartphone several reports of battery fires and explosions. At the time, Samsung confirmed at least 35 incidents worldwide out of the 2.5 million Galaxy Note 7s sold.
While cases of mobile batteries exploding or bursting into flame are nothing new, such accidents were thought to occur more often in cheap counterfeit devices. Numerous mishaps have been reported and filmed, including devices exploding in people's hands and pockets, with some even igniting vehicles. Some victims of this "cutting-edge" technology have suffered severe injuries.
Viral CCTV footage from China shows a mobile phone of unknown origin exploding in a woman's hands while she's on a bus.
In another calamity, a camera in India captured how a motorcyclist's phone caught fire at a very unfortunate moment – while he was pumping gas at a station.
Faulty batteries and unstable chargers are believed to be the main reason for such accidents, but physical damage to a lithium battery can also cause it to rupture and explode. A recent incident in Sydney when a man fell off his bicycle and had his iPhone catch fire in his back pocket proves the vulnerability of these power sources. The cyclist's leg was severely burnt as a result.
READ MORE: Burner phone: iPhone explodes on cyclist's leg after fall (PHOTOS)
Numerous online clips show people "testing" phone batteries for explosiveness, with most finding that the more you puncture or hammer on a battery, the better the chance is that it will explode (We know, right!).