Burner phone: iPhone explodes on cyclist's leg after fall (PHOTOS)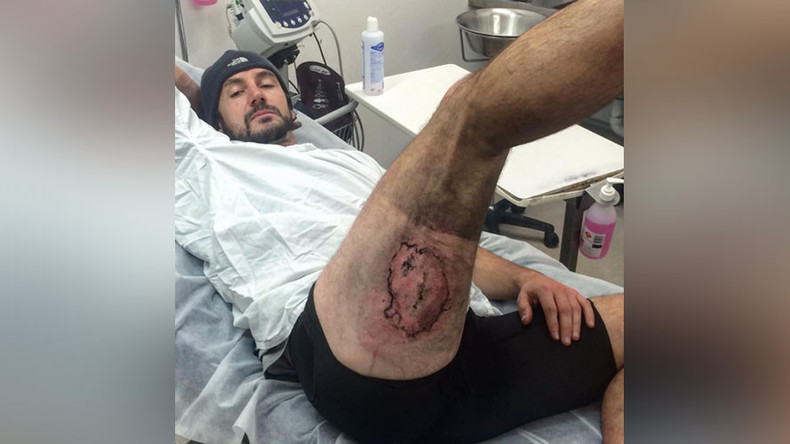 A Sydney cyclist suffered severe burns when his iPhone exploded on his leg during a minor bike incident.
Gareth Clear was riding his bike with his phone in his back pocket on Sunday, when he lost his balance after his foot missed a pedal as he was about to cycle off.
"I just saw smoke coming out of my back pocket… and then all of a sudden I felt this surging pain," he explained, describing how he experienced "searing heat" as his phone burnt through his riding shorts in a matter of seconds.
"The phone was stuck to my leg having melted through both my shorts and my Skins," he explained. Clear said he could see "black discharge" all down his leg and there was a "smell of phosphorus."
Clear suffered third-degree burns on his upper thigh, and needed a skin graft.
The rider hopes to use his painful experience to raise awareness of the dangers of iPhones.
"The more pervasive these are in our lives and the more people use them with a lack of apprehension that something might go wrong, the more that these things will happen," he said.
Apple Australia is said to be communicating with Clear directly on the issue, and Clear has also tweeted images of his injuries to Apple CEO Tim Cook.
According to the Australian Competition and Consumer Commission (ACCC), around two reports of injuries from mobile battery injuries are reported each year in the country of almost 24 million people.
Lithium batteries, which are used in iPhones and other smartphones, are susceptible to overheating. This is due to thermal runaway, an issue where lithium batteries gather excess heat, which then conducts more heat.
These batteries have a system to prevent overcharging and chemical reactions, but as batteries become smaller there is less room to keep the positive and negative plates separated.